I enjoyed "Privileged" more than last week's episode of Blue Bloods.  Maybe because it brought the entire family together and felt less like the Detective Danny show.
Frank, Danny, and Erin all worked different angles of a rape case where the suspect had diplomatic immunity.  I liked how Frank worked the father, Danny worked the son, and Erin looked for a way to work around the diplomatic immunity. When she found the loophole concerning the husband and wife being divorced, I was surprised how fast Mom had her son down to the station. 
I guess protective parenting falls by the wayside once you lose your own protection - and she did have that party in the Hamptons to get to.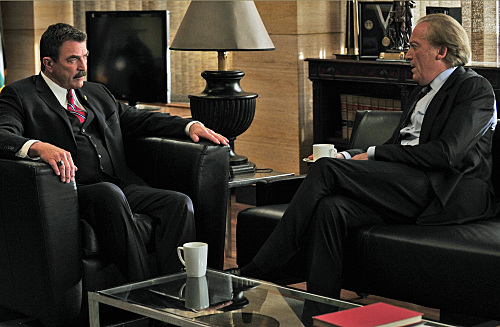 There was a funny moment when Danny was running down a suspect and grabbed a pedestrian's umbrella to throw at the suspect's legs.  Did anyone else notice how the woman didn't say anything when Danny grabbed her umbrella, then just kept walking as though nothing had happened?  Perhaps that is just life in New York.

Frank and his girlfriend continued to have a conflict of interest with their jobs (he being the Police Commissioner, she being a reporter) and it sounded like he broke up with her over the phone.  Maybe the writers have more of a story arc planned for these two, but we've seen so little of this couple that I found it hard to care about the break up.

Jamie didn't get much screen time, but what he did get I enjoyed.  Watching the rookie /training officer dynamic has been fun and Nicholas Turturro has really grown on me over these three episodes.

I'm wondering when the Jamie /Sidney relationship will come to a head.  When he proposed, he was a Harvard Law grad.  Now, he is a rookie cop.  Sidney said she can deal with that, but she's worried that he loves the job more than her. I like Sidney but I wouldn't be surprised if they were on the outs by the end of the season.

Jamie asked his grandfather about the Blue Templar when he noticed Danny has a Blue Templar pin.  "In my day we formed the Templar for a reason, to clean up the department.  After the job was done it became just another club. Drinking and war stories."  You could tell there was a lot Gramps wasn't saying, but I guess we'll have to wait and see how the season unfolds to get more.

What did you think of "Priviledge" and does Blue Bloods make your Friday night must-watch list?

C. Orlando is a TV Fanatic Staff Writer. Follow her on Twitter.

Tags: Blue Bloods, Reviews
Want more Blue Bloods?
Sign up for our daily newsletter and receive the latest tv news delivered to your inbox for free!
More From TV Fanatic
It's select ensemble vs. elite in a dance rematch this week on Dance Moms. Who came home with the victory? Read on to find out!
On tonight's Tyrant, Jamal and the Sheik meet for negotiations. Will they come to an agreement?
It's time to reunite on The Real Housewives of New York City. Read all about this special episode now.
Who can be trusted? On tonight's Covert Affairs, it's clear that it's important to trust others, but also a huge gamble.
---