Rachel Nichols knows she's in a tough spot replacing A.J. Cook.
The new Criminal Minds cast member, who debuts tonight, says the situation is reflected by the other characters, who will speak to what the audience may be feeling.
"I knew that JJ had left and there was a lot of uproar. People were wondering, who is this new girl?" she told TV Guide. "What they wanted to do was introduce this character and have people like her because you can't have people angry and hate her right off the bat."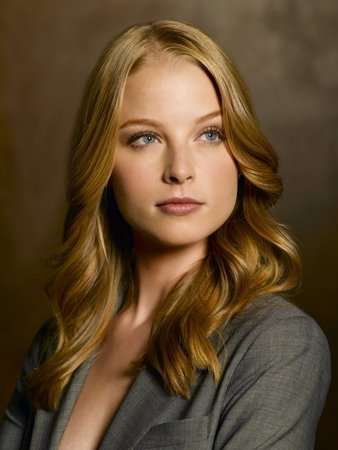 "There are some scenes in the first episode where [the characters] kind of talk about it, and they're definitely a little wary of her. But it was all intended to be a very warm welcome for this girl who was going to be here a short period of time."

Aside from the BAU, the viewers will get to make up their own minds tonight, when Nichols' character, Ashley Seaver, a cadet at the FBI academy, is brought in to help.

Cook's exit has everyone thinking of her as a replacement, but the character is very different, according to the actress, starting with her unique connection to the case.

A serial killer in a gated community is on the loose, and even though she's still in training, she has a very specific insight into this particular case, given Ashley's past.

"This episode deals with a gated community - everybody has the white picket fence, kids, a dog and a station wagon," Nichols says of tonight's show. "They're trying to look for an unsub who really carries off life as a perfectly normal individual."

"The experience Ashley grew up in [was] the seemingly idyllic childhood with a very dark underbelly. Rossi thinks they need someone with a new perspective and because of the way she was raised, she may have this perspective."

But is she ready for down-and-dirty field work?

"She's green; she's not an agent who's been out in the field a lot," Nichols says. "But she asks if she can finish out her training sessions with the BAU because that's ideally where she'd like to end up one day. For the first time ever, she's looking at very gruesome crimes and seeing a lot of blood, and severed limbs. She's the one who asks a lot of the questions and it's helping her figure out if she wants to do this seriously or not."

If she's going to be sticking around, she'll have to make some bonds quickly. Enter Dr. Spencer Reid.

"They have a bond by having grown up as outsiders," Nichols says.

"She's fascinated by Dr. Reid because he's got that memory, and she knows he can give her insight into her past because she doesn't have a lot of details on it. They could certainly develop something there with the two of us having a lot of similarities."

Steve Marsi is the Managing Editor of TV Fanatic. Follow him on Google+ or email him here.

Tags: Criminal Minds, Interviews, Spoilers