With our favorite prime time shows on hiatus, TV Fanatic is taking a look back at some buzzed-about programs and grading their performance this fall, with a look toward 2011.
Previously this week, we gave a B+ to Smallville. Up now: Fringe.
Best Episode: No contest here. "Entrada" blew the roof off the already stellar season by giving us a whiplash-inducing flip flop between worlds as Olivia struggled to finally make her way home, Fauxlivia's identity was exposed and poor Alt-Broyles got "The Fly" treatment just as he was beginning to win us over.  Bonus points go to this episode for coining the term "vagenda."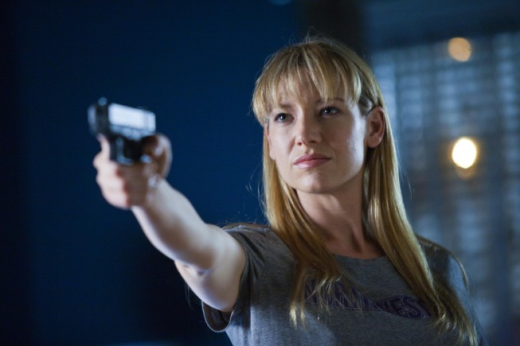 Worst Episode: Trying to decide on the "worst" episode in this creatively satisfying third season is like digging through a stack of $100 bills for the one with most creases. While still a strong effort, "The Plateau" leveled off on the excitement to which we've become accustomed. Plus, it activated in us a weird phobia of ballpoint pens we're still trying to shake off.

Best Character:

Even if we put on a blindfold and tried to pick at random anyone in this deserving cast, something tells us that scientific forces would still pull us straight toward Walter Bishop. No one blends bonkers with brilliance quite like Walter. His crazy tangents, filter-free commentary and penchant for red vines and pastries while carving on cadavers make him the most irresistibly quirky scientist since Doc Brown in "Back to the Future."




Worst Character: Lincoln Lee. We still haven't seen a hint of Lee "over here" (that we know of anyway) and aren't exactly making a connection between his presence and this battle-between-worlds business. If there's a point to his character, who sounds an awful lot like a Marvel Comics character, we can't figure it out. But we'll say this for the guy: he can rock a mean third degree burn.  


Best Performance: Without question, Anna Torv's nuanced approach to Olivia Dunham's emotional gamut run completely obliterated our expectations and has buoyed the phenomenal first half of the season to new heights. If any performance from any actress on any show so far this season screams more loudly, "I Deserve An Emmy," this is the one.


Most Macabre Moment: A perennial creep-fest, Fringe has some of the most gruesomely hard-to-watch moments on any other show except for perhaps The Walking Dead. But watching a mentally deranged doctor play puppet show with a corpse in "Marionette," as tears stream across his pallid cheeks, tugged on our freaky strings like no other.

Hopes for 2011: Fringe has thrilled us beyond our wildest dreams this season. At this point, all we can really hope for is a fourth season.

Overall grade: A+

Agree with this assessment? Disagree? Sound off now!

Jeffrey Kirkpatrick is a TV Fanatic Staff Writer. Follow him on Twitter.

Tags: Fringe, TV Fanatic Report Cards