Psych concluded a tremendous fifth season late last month. How did various aspects of this USA stack up? What grade would we give it? Find out now...
Best Episode(s): A tie between "One, Maybe Two, Ways Out" and "Extradition II: The Actual Extradition Part." What made these episodes so great was their integration of the Shawn and Juliet plot within the greater context of the story.
Worst Episode: "Ferry Tale" did nothing to advance what seemed to be the larger goal of this season: character growth both as a group and as individuals.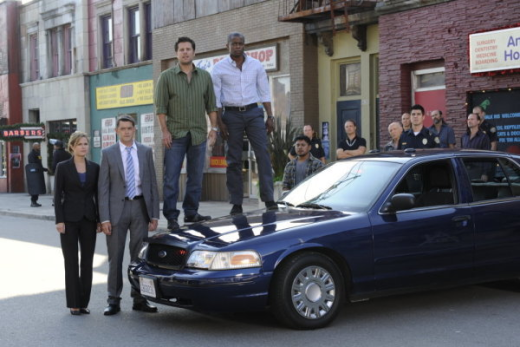 Best Character: Hands down, John Michael Higgins as Clive Prescott. In Psych's homage to Dirty Rotten Scoundrels, Higgins played the quintessential gentleman, capable of seducing any woman he wanted, but specialized in educating younger men in the art of seducing the classiest of cougars.

Worst Character

: Mr. Yin. But it's not his fault. While Peter Weller's portrayal of Mr. Yin was satisfyingly creepy, the

Psych

writers deserve a slap on the wrist for creating such an intriguing and compelling serial killer only to leave us with more questions than answers.

Best Performance: The actors from Twin Peaks when they guest starred on "Dual Spires." Ray Wise, Sherilynn Fenn, Robyn Lively, Dana Ashbrook, Lenny Von Dohlen, Sheryl Lee and Catherine Coulson were epic additions to the regular cast and the episode was a pop culture gold mine.

Hopes for next season: With the cliffhanger leaving us wondering what Carlton will do with the revelation of Shawn and Juliet's relationship, the one thing all Shules fans can hope for is that Carlton will attribute what he saw to a figment of his imagination.

Prior to that, I'd like an episode where we get to see a day in the life of Chief Vick. It would be a change in pace and focus, but I am dying to get more involvement from the Chief in the day to day operations of the department.

I also would love to see some vampire spoofing, and some baseball spoofing; we already know there's a department softball team. What I hope for most out of season six is the epic musical that creator Steve Franks has been promising since at least season four. It's high time and I know that when they hammer out a concept it will end in epic-ness and highly demanded soundtrack so Psych-os everywhere can sing-along to.

Overall Grade: A.

Agree? Disagree with this assessment? Sound off now!

C. Charles is a TV Fanatic Staff Writer. Follow her on Twitter.

Tags: TV Fanatic Report Cards, Psych