The Bachelor is really heating up this season. Burning up the NASCAR track, if you will. It's clear that fair Emily Maynard is Brad Womack's favorite after this episode.
Recapping this week feels almost pointless, since we all know Emily is advancing to the final rose ceremony (it could not be more obvious), not to mention Chantal O.
We don't say this because of The Bachelor spoilers we read, it's playing out on the screen and in the previews for the rest of the season. ABC gives too much away.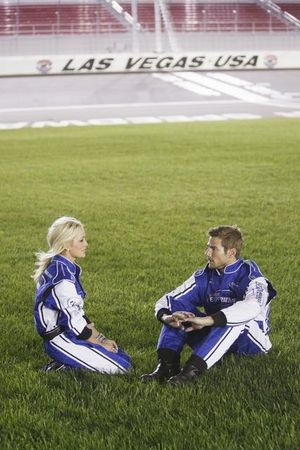 Brad and Emily coincidentally go on a NASCAR date.

Anyway, here's your brief rundown. Shawntel Newton gets the first date, and goes on yet another helicopter tour of Las Vegas. They have dinner on a roof and see fireworks.

Shawntel gets a rose en route to the final ... well, forget it.

The group date, wouldn't you know it, involved NASCAR time trials. Lisa won, but Emily was the true winner of the date and probably the sole reason that it even took place.

Emily really opened up to Brad again, which Chantal did not care for, getting a bit too emotional for even Brad's taste. What do you expect, the girl's got an effect on him.

Then it's time for the dreaded two-on-one, with the two Ashleys, Hebert and Spivey, facing off. The three then start rehearsing with the Cirque de Soleil show, Viva Elvis.

Both girls train and rehearse with the dancers to see which one will join Brad, who during dinner eliminates Ashley Spivey. He and Ashley Hebert then appear in the show.

Rose Ceremony Eliminations: Marissa May, and Lisa Morrisey. Where they even on the show prior to this? We suppose so. But the contenders are clearly rising to the top.

Steve Marsi is the Managing Editor of TV Fanatic. Follow him on Google+ or email him here.

Tags: The Bachelor, Reviews