Her role on Gossip Girl made her a star, but Taylor Momsen is loving life even more these days doing something different, touring with The Pretty Reckless.
Sleeping on a bus and performing at a different venue nightly with her band, the 17-year-old actress, model and singer is living a lifelong dream, she says.
With her talent - and a little PR boost from her vintage bondage and lingerie inspired outfits - she has helped her band to surprising success in the past year.
The Reckless have become bigger and bigger, both commercially and critically.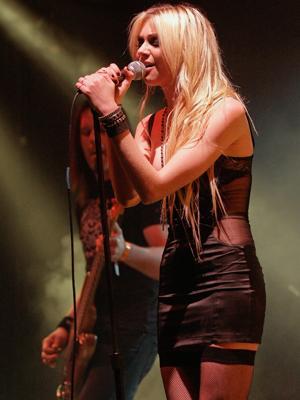 Taylor Momsen's music career has really blossomed.

"It's an amazing feeling. I never expected it," she told the Daily Mail (UK). "I guess they really like the music which is all that you can hope for."

Momsen insists the band's songs are all her own, too.

"I wrote all the songs with Ben, who's our guitarist. It is very much me. I wrote the record. I started writing (music) when I was about five," she says.

Asked if she thinks she's hyper-sexualizing herself through her racy clothing, she said: "Well I love vintage and I loved remaking vintage pieces. So that is where is started."

"The white corset dress from the tour was a corset from the 1920's that got reworked."

Asked if she would like to leave Gossip Girl behind and focus on the band, she claims she is grateful for the opportunities it has given her.

"I've had such a great time filming the show and they are being very supportive in letting me tour so I'm thankful for that," Taylor said.

"I'm going to be touring for the whole year almost so they have been very understanding in allowing me to do that."

But will she be back next season? "Possibly," she responded with a laugh.

Do you want her to come back? Do you miss Jenny? Regardless, we wish Taylor nothing but continued success with the Pretty Reckless!

Steve Marsi is the Managing Editor of TV Fanatic. Follow him on Google+ or email him here.

Tags: Gossip Girl