United States of Tara Season Three Preview: A Spotlight on Max
by Matt Richenthal at .
Showtime's United States of Tara features Toni Collette as five distinct characters (so far).
But the early parts of season three take the focus off Tara and her alters and places it squarely on this individual's family members. It's a welcome change.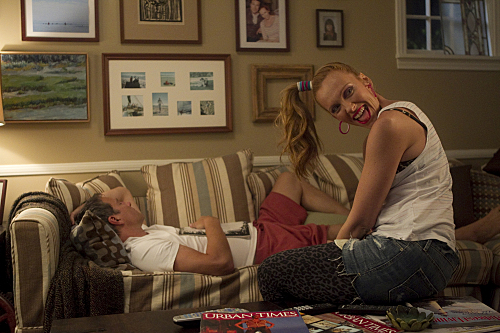 As fascinating and impressive a performance as Collette gives, there's not many places remaining for her title character go.

Yes, we discovered at the conclusion of season two that she had an abusive step-brother - but Bryce only comes up a couple, brief times through the first three episodes of season three, and I can't say I care much about what feels like a predictable conclusion to this storyline anyway.

In some form, I'd imagine Tara gets closure from her eventual confrontation with Bryce, thereby solving her D.I.D. or at least controlling it like never before. Either that, or Buck kills the guy and we're stick with a season four trial.

Predictions aside, the point is that this show spins its wheels a lot when it comes to Tara. I get that she has issues and I get that she transitions sometimes to deal with them. At the outset of season three, not much feels fresh with her.

But there's definite progress with those around her.

Neil and Charmaine are dealing with an impending child, as their relationship goes through various stages of arguing, Yoga-ing and sex-against-the-piano-ing. The latter remains a self-centered mess, but there are moments when Charmaine is speaking to Tara's alters when her love for her sister shines through.

Kate, meanwhile, is trying to find herself. She's past the days of making money by sitting on cakes for horny Internet users, but those days aren't finished with her quite yet. They make it difficult to her to move on in Kansas, leading to an interesting development that actually brings the Japanese earthquake into play.

Overall, though, the beginning of season three places a spotlight on John Corbett as Max. He's been the steady family influence through two seasons, remaining calm in the face of absolute chaos and mostly reacting to events around him. But Max's world takes a number of hits here, professionally (his business is in trouble) and personally (his mother makes Tara look sane).

There's a moment in the third episode where we wonder if Max might actually leave his family. It's an unlikely possibility, but it's a side of this character we haven't seen before. Following such a long focus on all sides of Tara, it's the aspect of season three that has left me most encouraged.

United States of Tara kicks off a new season tonight. Return to TV Fanatic as soon as the new episode airs for a detailed review.

Matt Richenthal is the Editor in Chief of TV Fanatic. Follow him on Twitter and on Google+.

Tags: United States of Tara
From Around the Web