If you watch any HBO programming at all, you've seen the previews for the upcoming epic series, Game of Thrones. Based upon a series of books called A Song of Ice and Fire by George R. R. Martin, Game of Thrones is the first book in the series.
If you've read any of the books, you know how obsessive they are, and how elegantly written. I couldn't believe how easily I was trapped into loving it. To see such greatly loved (and despised) characters come to life on screen was utterly joyful for me.
Recently, I was fortunate enough to view the first six episodes in advance of its premiere this Sunday, April 17. Here's a primer on the series and what you can expect ...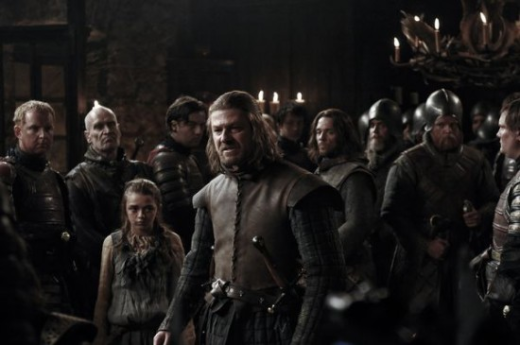 Game of Thrones is considered fantasy by genre, but the stories themselves are about the people who inhabit the mystical world of Westeros.

It's definitely a character driven plot line, and the actors chosen to play a majority of the characters came to the Game with little to no acting experience.

Perhaps that lack of experience enabled them to virtually become the characters themselves. Reading the first two books so closely to watching it's screen adaptation seemed like an advantage. My mental image of all things Westeros was still bright and shiny in my mind and to see it come to life gave me goosebumps.

Kings Landing is the territory inside of Westeros where the houses of about two dozen noblemen rule under King Robert (Mark Addy). He has married into the House of Lannister, one of the major houses in Kings Landing, and his queen is Cersei (Lena Headey).

The Starks are the family upon which all of Game of Thrones originally came to be.

In the first season, the story will briskly follow all that happens within the first book, taking a few liberties for the purpose of plot along the way. You will learn about the Starks, lead by Eddard (Sean Bean) and Catelyn (Michelle Fairley), their passion for life, their tightly knit family and deep moral compass.

Four of their children, Robb, Sansa, Bran and Arya, as well as Eddard's bastard, Jon Snow, are integral players to Game of Thrones and each finds themselves leading a life outside any they ever dreamed.

You will also learn about the Lannisters, Cersei, the queen, her handsome brother Jaime and the imp (or dwarf) Tyrion. Expect Tyrion (Peter Dinklage) to steal your heart, but also know that the Lannisters do not exactly mirror the Starks in any sense of the word as they lie, cheat and fight, even amongst themselves.

After the death of the King's Hand, the Starks will be swept from their quiet, respectful life into that of the Royal family. Expect a clash of wills and a deep distrust to come between the families.

We will also meet the Targaryen family, brother and sister Viserys and Daenerys, whose father and former king was killed during his reign. After being given sanctuary by the free city of Pentos, Viserys is determined to regain the crown, even if it means selling his sister to do so.

I find the stories of Daenerys and Jon Snow to be the most interesting and challenging, and I cannot wait to hear what you all think as you learn about the kingdoms, families and inhabitants of Westeros.

There will no doubt be warring factions of viewers for Game of Thrones. Those who read the books repeatedly, and want to see it portrayed exactly as in the book.

There will be those, like me, who are thankful for the faithful portrayal, as well as the liberties taken, as they seem native to the story and characters and only enhance the experience. Finally, there will be those who have no idea what the books are about and can be blown away by a world that once only existed in the imagination of a writer with mastery and skill such as Mr. Martin.

Tune in this Sunday for the first episode of HBO's masterful Game of Thrones, and read my review of the first episode shortly thereafter. You will not be disappointed!!

Carissa Pavlica is the managing editor and staff writer for TV Fanatic. Follow her on Twitter and on Google+.

Tags: TV News, Exclusives, Game of Thrones, Spoilers