Blake Lively insists that she is nothing like her Gossip Girl character, Serena van der Woodsen ... well, save for all the eye-opening fashion and NYC jet-setting.
The 23-year-old still says the two are primarily opposites.
"I wear pretty clothes and I live in New York so people automatically think I'm very similar to her; they see her talk and interact in their homes once a week and they probably assume that this is who I am, but it's not me," she said.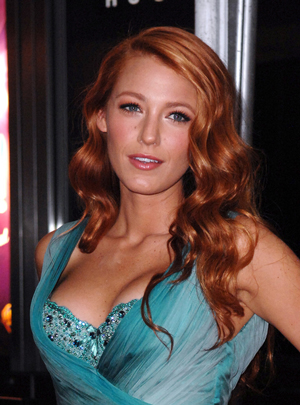 Unlike party girl Serena, Blake is more family-orientated and feels her responsibility is to be a good role model for her young fans ... imagine that!

"I was raised in a very rounded family from the South and was never much of a party girl, and if I were I would think of the obligations that I have to young girls, because I feel there are not too many great role models, although some are now emerging," she said.

"In the last few years the paparazzi have played out the lives of these girls for everyone to see; so many people make mistakes at that age it all takes place in front of the camera."

However, the Green Lantern beauty does understand why people are so interested in her personal life after watching her on their screens for years.

"It makes sense to draw parallels between the show and what goes on in my real life," she said. "Being in the tabloids no doubt keeps our ratings high, and if we don't like it, I'm sure the [Gossip Girl] producers don't mind."

Steve Marsi is the Managing Editor of TV Fanatic. Follow him on Google+ or email him here.

Tags: Gossip Girl