The Bachelorette is back, and dare we say it, better than ever?
It's not that this is groundbreaking reality TV. In fact, it's one of the older reality franchises still around. But ABC seems to be embracing its cheesiness, knowing what fans respond to and running all-out with it at this point.
From the deliberate overuse of certain phrases - i.e. "here for the wrong reasons" - to montages introducing our Bachelorette (and her suitors) designed to tug at your heartstrings and blurring the line between reality and scripted drama, the show is hitting its stride once again.
It doesn't hurt that the Bachelorette herself is so much fun.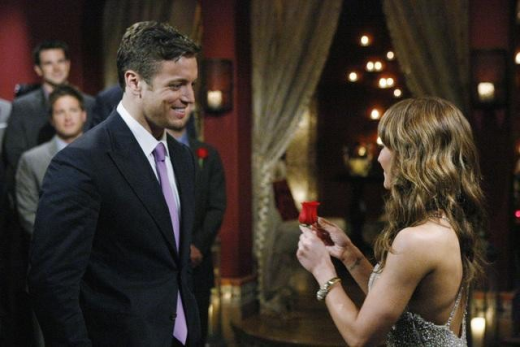 What a welcome relief from that robotic stiff Brad Womack to see someone so genuine, outgoing and comfortable with herself in the driver's seat. She really is great.

You may find Ashley Hebert a little annoying at times, but she's nothing if not genuine. The same can be said of the guys wooing her. Well, at least most of them.

The Bachelorette differs from The Bachelor in one simple way. Guys are simpler. There's more of a fun feel, despite the competitiveness, rather than cattiness.

So who survived? Who got so drunk they got sent home before the rose ceremony (seriously)? Who does Ashley think is there for the wrong reasons (gasp)?!

Follow this link for a full recap of The Bachelorette season premiere, then check out who made Ashley's first round of cuts and who was sent home after the jump ...

IN:

Ben Castoriano, Chris Drish, Ryan "Mickey" McLean, Bentley Williams. Blake Julian, Ben Flajnik, Nick Peterson, Stephen D'Amico, William "Will" Holman, West Lee, Lucas Daniels, Constantine "Dino" Tzortzis, Ryan Park, Ames Brown, Jeff Medolla, Matt Colombo, Ryan Miller and JP Rosenbaum.

OUT: Tim McCormack (drunk), Frank Carpenter, Jon Ellsworth, Anthony Santucci, Mike Burns, Rob Dahm, and Chris Malhomme (no roses).

Steve Marsi is the Managing Editor of TV Fanatic. Follow him on Google+ or email him here.

Tags: The Bachelorette, Reviews