The Glee Comic-Con panel in Hall H this morning was devoid of the show's top stars, but not of significant casting news.
Right away, co-creator Brad Falchuk explained the show's plans for Lea Michele, Chris Colfer and Cory Monteith:
"Here's the exact thing: [Rachel, Kurt and Finn] are seniors, so they're graduating, but because they're graduating doesn't mean they're leaving the show. If you have Lea Michele under contract, you don't say, 'We're gonna let you go.' They are not done with the show after this season."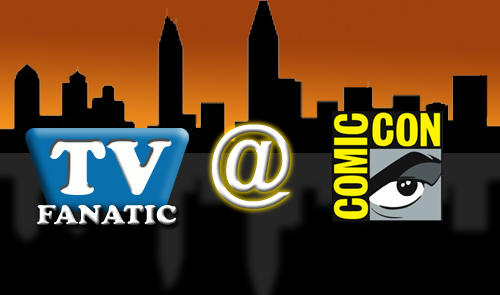 HOWEVER, in less exciting casting news: Chord Overstreet won't return at all.
Falchuk, says the actor was
offered a deal
to return for 10 episodes - with the possibility of becoming a series regular at midseason - but he declined. No word yet on how the show will explain Sam's absence.
"We wanted him back because we like Chord personally and had some good stories planned for him and with Mercedes," Falchuk said. "He decided he would have opportunities elsewhere that he would like to pursue, and we can't force him to work, so we wished him well."
Among other topic covered:
Yes, there will be more of a focus on character, including "larger stories that take us through the whole season," Falchuck said.
We may meet Rachel's dads, but not this season.
No Sam? No problem for Mercedes. "She has this new boyfriend she met over the summer who's pretty cool," Falchuk said, comparing the relationship to that of "Cuba Gooding Jr. and his wife in Jerry Maguire. He's this Big Bubba kind of guy and he encourages her to want more for herself. That drives her arc into the next half of the season."
Blaine and Kurt won't be breaking up any time.
We'll meet Mike's parents.
Sue will run for Congress on a "No Arts" platform. Falchuck: "She doesn't just want to end the glee club; she wants to end [all] glee clubs. She'll be trying to take them all out, big time."