The Nine Lives of Chloe King Review: "Nothing Compares 2 U"
by Carissa Pavlica at .
Seriously, Amy, with all the coffee shops in San Francisco, did you really have to take a date to Chloe's, where you knew it was possible to run into Paul? That was really petty.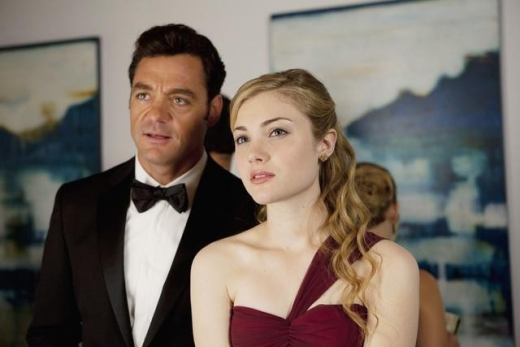 While I'm picking on Amy, she also left a guy she's known for years because he got naked, but had no problem accompanying a guy she barely knew to a seedy part of town to watch him gamble illegally. She is one confused young woman.

Meanwhile: oh, my (and I don't mean oh, Mai): Brian's dad has a hot body. That was unexpected and it felt kind of dirty to watch him in bed with someone, especially someone who is of The Order and wants Chloe dead.

I have to agree with Paul: watching Chloe bound across a building never gets old. Seeing her do cat maneuvers is one of my favorite parts of the series. I wanna see more of it.

It took him long enough but, finally, in "Nothing Compares 2 U," Brian had the right reaction when Chloe entered the art gala. I truly believed he found her beautiful.

That doesn't mean I'm not going to point out the cheese. In real life, does a stranger walk up to a young couple and tell them how great they are together? No. It was an awkward exchange and I didn't need their situation shoved in my face.

Did you notice the homage to vintage super-hero programming with the music they played as Chloe took down the bad poker guys? It was almost reminiscent of Batman. I think they need to focus more on those fun moments, if they aren't going to take the whole Mai lore thing seriously. There has to be a harmony, but the show hasn't reached it yet.

The writers were trying to balance the serious and fanciful with light-hearted and whimsical moments and some more dramatic turns, but they didn't particularly pull off either. I'm still not sure what the series is trying to become. A love story, a mystery, a tale of super heroes? It's all over the map.

Brian's dad and his gal pal saw Chloe, but it barely made a dent in their evening. That was just odd. Shouldn't that scene have had more of an impact? If they wanted her dead so badly, why pass up such an easy target?

The last scene, with Chloe fleeing Brian's declaration, felt right. I believed she was in pain turning from Brian just as I believed he had earlier found her gorgeous. Mimi was definitely jealous of Alek watching over Chloe, but I wonder if we are reaching a fork in the road where Alek and Chloe become less flirtatious and more like Mai warriors together.

Of course, there has to be some big secret in the closet that allows Brian and Chloe to be together. Perhaps he's the other half of her ability to unite Mai and humans? Maybe it has to be him?

I'm just guessing, but I really have to see a kiss by season's end to know if the real sparks are going to fly. They were there in the first few episodes, but they have had a hard time keeping the two alive as the weeks have progressed. We need more near miss kisses and longing for me to cheer for them as a couple.

With Mimi in the picture, do you think things might change? Are you buying into Brian and Chloe more or less now that he has professed his love for her? Were you as disappointed as I that Jasmine and Valentina weren't in the episode?

Carissa Pavlica is a staff writer for TV Fanatic. Follow her on Twitter and on Google+.

Tags: The Nine Lives of Chloe King, Reviews
From Around the Web