Come on down, Roy Dotrice and Hannah Murray. You're the latest set of actors to join HBO's Game of Thrones!
The British actor, who actually voices the audiobook version of of George R.R. Martin's "A Song of Ice and Fire," will portray Pyromancer Hallyne (chief of the Guild of Alchemists) on season two.
Murray, meanwhile, will take on the role of Gilly, one of the women residing with Old Craster who wants to escape his rule. The young actress appeared in Great Britian's Skins.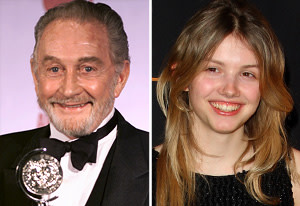 Shooting on the second season of Game of Thrones is underway.

It will also feature: Liam Cunningham as Davos Seaworth, Stephen Dillane as Stannis, Carice van Houten as Melisandre, Gwendoline Christie as Brienne and Natalie Dormer as Margaery Tyrell.

Tags: Casting News, Game of Thrones