Grey's Anatomy Spoilers: "Uphill Battle" For Cristina & Owen, Alex & Everyone Else
by Steve Marsi at . Comments
Don't expect smooth sailing ahead for Cristina and Owen on Grey's Anatomy this season. Same goes for Alex and ... anyone else at Seattle Grace hospital.
The sinkhole the doctors are battling in the Season 8 premiere makes a nice metaphor for Christina (Sandra Oh) and Owen (Kevin McKidd), E! Online says:
"It's not going to be easy for them. It's more than a bump [in the road]. It's kind of a sinkhole, actually," McKidd muses. "They're really hitting it hard."
"He wants kids, she absolutely does not. It's not going to be pretty."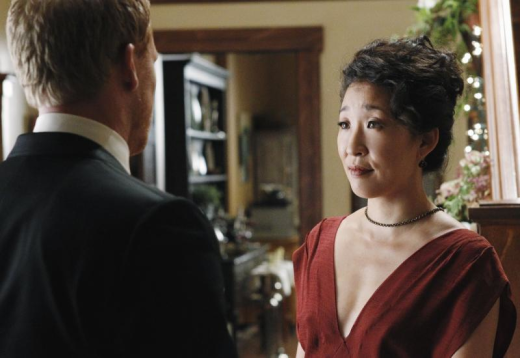 McKidd says Grey's Anatomy fans will get answers - one way or the other - to the Cristina baby cliffhanger that the Season 7 finale left us with all summer:

"In the season premiere there will be a resolution to all of that in a quite unexpected way. It resolves, and then you think it's put to bed, but it isn't."

Speaking of unresolved issues, where do we even begin with Alex?

Don't hold your breath for Meredith to forgive him within the first few scenes of the season premiere, despite his attempts to climb back into her good graces.

"He's got to work his way back into the trust of his friends," Justin Chambers says, adding that it'll be hard. "Meredith will hopefully forgive him. I think she will."

In the meantime, his status as a social pariah has a silver lining.

"I think he's going to apply himself a lot more this year because, frankly, he's not going to have much of a personal life," Chambers says. "He's done with the relationship thing for a while, with what happened with Lucy."

It will be hard to get past what he did, but "Since no one wants to talk to him because he's a rat, so he's going to concentrate on being a better doctor."

Steve Marsi is the Managing Editor of TV Fanatic. Follow him on Google+ or email him here.

Tags: Grey's Anatomy, Spoilers