Samuel Larsen and Damian McGinty Win The Glee Project, Will Appear on Season Three
by TV Fanatic Staff at .
If Glee is a show that gives a voice to those typically considered "losers" in high school, The Glee Project turned out to be a show in which there were no real losers. At least not when it came to last night's finale.
In a surprising twist, Ryan Murphy named both Samuel Larsen and Damian McGinty winners, while also handing out a pretty big consolation prize to Lindsay Pearce and Alex Newell: they'll appear on two season three episodes of Glee.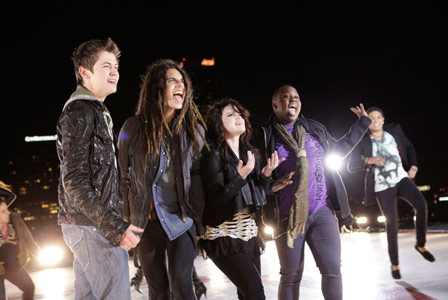 Samuel and Damian, meanwhile, are now booked for seven apiece. What roles will they take on? That's a surprise.

On the finale, all four contestants banded together for renditions of "Don't Stop Believing" and "Raise Your Glass." They then sang a choice of their choice for Murphy, the judges and a handful of Glee cast members.

In the end, Murphy announced the final decision and said it wasn't based on "any of [the contestants'] individual talents, it's about the needs of the show." It should be interesting to see how these four serve those needs when Glee returns on September 20.

Tags: Glee, The Glee Project
From Around the Web