America's Next Top Model Review: Welcome, Kristin Cavallari
by Kate Moon at .
New cycle, new Tyra-ism. In "Kristin Cavallari," we learned the importance of the booty tooch and that Bianca is scared of Chihuahuas.
Compared to some of the other cycles, the models are relatively subdued thus far in their quarters. Yes, Angelea did have a pretty major meltdown after being critiqued by Nigel, but there was little to no sniping.Come on, ANTM! I've come to expect more from the show that entertained me with stolen granolas (Bre), chicken lessons (Alexandria) and ummm, Uncle It (Lisa).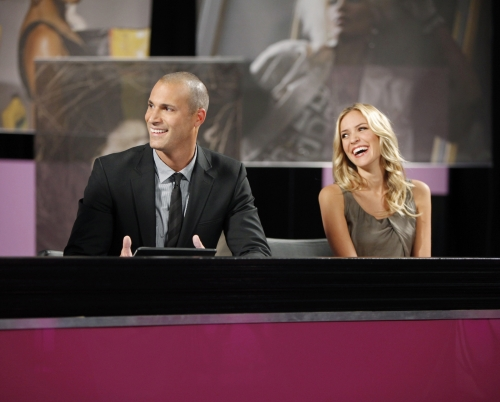 Allison was undoubtedly the star of the show, somehow managing to look utterly adorable with her animal hood, while charming Mario Lopez and Nigel during her Extra interview.

The photoshoot du jour involved balancing on some of the most elegant stilts ever. Bianca broke down yet again about her fear of heights, to which Lisa retorted that she was scared of everything. Camille made haughty comments about Isis' previous transgender status and how the latter can't possibly beat her. Well, ha! Your photoshoot sucked, Camille. Too bad she was in the winning group.

Jay also made it very clear during the shoot that he's not a Shannon fan. While I honestly didn't understand the fuss between underwear and bathing suit (it shows the same amount of skin!) there was no need to rile up the girl before her shoot. However, she managed to hold it together very well.

Allison rocked the shoot and was a judge favorite with her "booty tooch."Yes, that is a thing now and will probably be inducted into the Hall of ANTM Fame along with "smize" and "dreckitude." Allison saying "tooch" is possibly the cutest thing ever. 

Alexandria got first call-out out of the "Unsafe Six."  She's not as dreadful this time around, but the way her mouth twitches just makes her look so witchy! Isis and Angelea ended up in the bottom two, and Isis went home for her weaker photo. I was a little surprised; I thought Isis would stick around a lot longer, only if because she is an inspiration to the transgender community. 

Are your favorites still around?  Do you agree with the judges' decision?  

Tags: America's Next Top Model, Reviews
From Around the Web