America's Next Top Model Review: Welcome, All-Stars!
by Kate Moon at .
America's Next Top Model has gone the Top Chef route and gone All-Star on viewers.

Because it is ANTM, the returning contestants were a mixed batch of talent and infamy.  Is Lisa D'Amato really an All-Star or do they just want to bring back the girl who peed in a diaper? The ultimate icing on the drama cake would have been Jade Cole from Cycle 6 coming back, but she rejected the offer. Drats!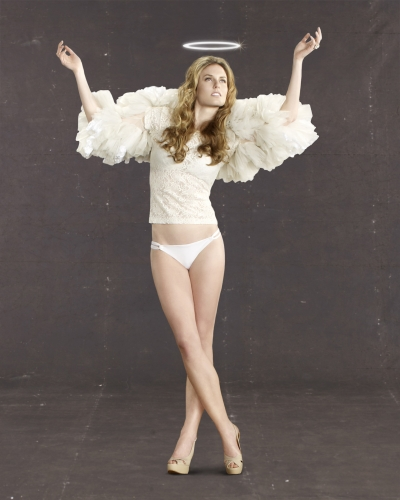 The enthusiasm of the live audience and the returning contestants was really infectious, though, so much so that I enjoyed "Nicki Minaj" more than any other ANTM episode in recent cycles. 

It was also really fun to see some of my favorite contestants like Bre, Laura, Brittany, Sheena, Isis, and Allison back in the game.It didn't seem like they shared my sentiment, however.. Aside from a few happy faces, most of the models were busy giving each other the evil eye.

 

Camille and Bianca's reputations clearly preceded them, and most of the girls steered clear of the divas.It wouldn't be ANTM without some serious girl drama, and with so many personalities under one roof, Cycle 17 promises some major meltdowns.

The premiere also felt more fast-paced without the traditional "introductory panel, as" the girls shot their first themed photoshoot right away.After cycles and cycles of coaching amateurs, there's something refreshing about coaching seasoned veterans, right, Jay? 

The highlight of the episode was clearly the living judging panel at LA where the fans get to weigh in on their favorites.They were probably far more excited to see Nicki Minaj, of course, who's apparently a huge fan of ANTM. Who knew?!?

Andre Leon Talley wasn't the biggest fan of Brittany's personality, which probably resulted her in going home.Tyra didn't even offer her much modeling consolation, instead complimenting her on being the "CEO of her life."That's one of the least craziest things Tyra has ever said. 

Let's take some time to reflect on who SHOULD have come back for All-Stars, shall we?I miss Joanie from Cycle 6, YaYa from Cycle 3, Natasha from Cycle 8, and Chantal from Cycle 9.Sound off on who you miss and who you're glad to see back on America's Next Top Model now!

Tags: America's Next Top Model, Reviews
From Around the Web