Scott Porter called in a little bit late to our interview yesterday, but he had a very good excuse: the former Friday Night Lights star had been out celebrating the surprising Emmy victories on Sunday night for Jason Katims and Kyle Chandler.
Before getting into his role as George Tucker on Hart of Dixie, I had to ask Porter for his reaction to the latter's much-deserved triumph.
"I made a sound, some type of roar, that I didn't know I was capable of making," the actor said. "He's a man that deserves to be recognized. He has such a quiet power and is, truly, the most sincere person I've ever met in my life."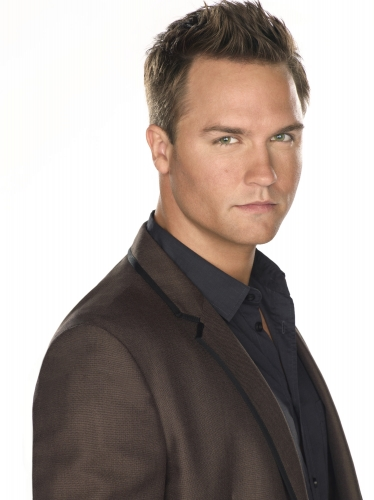 Following his time on Friday Night Lights, Porter recurred for numerous episodes on The Good Wife, solidifying his status as a versatile TV star. It's safe to assume he had his pick of scripts, so why sign on as a southern lawyer on Hart of Dixie?

"I wanted to find something new," he said. "This required me to rewire my brain a bit. It was a welcome change of pace."

With a background in musical comedy, Porter also said he was looking for a "lighter" script.

"I wanted to show Hollywood I can do something in that realm," he said. "You tend to get defined by your latest project, so this offered that chance, along with the chance to show I can be a leading man."

So Porter met with producers Josh Schwartz and Leila Gerstein and they "just sold me on this town, this wonderful town. I looked at the great cast and saw a show that knows what it is."

And what is it? Porter describes the fictional Bluebell, Alabama as a place that "takes you back to a time when things were simpler. Life wasn't always about violence and sex... there are pockets of America you just want to spend time in and we think this is one of them."

Viewers will enjoy a feeling of "comfort" when they tune in, Porter adds, except, perhaps, when talk turns to college football. Look for a fiery dinner scene to take place early on when the topic of Alabama versus Auburn comes up. Would you expect anything different from a show based in the south?

Hart of Dixie premieres on Monday, September 26. Read my advanced review of the pilot NOW.

Matt Richenthal is the Editor in Chief of TV Fanatic. Follow him on Twitter and on Google+.

Tags: Exclusives, Scott Porter, Hart of Dixie, Interviews