What is normal for Andy and Sam? That was the final question our critic posed at the conclusion of her Rookie Blue season finale review.
We aren't the only ones wondering. In an interview with Tassie Cameron, Vlada Gelman asked the same thing, to which the producer gave the following, vague reply:
"We spent a lot of time discussing that in the development of Season 3. We sort of wrote ourselves into that corner, with a few ideas about what we were going to do in Season 3... We're going to try to explore what normal looks like for them in at least the first half of Season 3."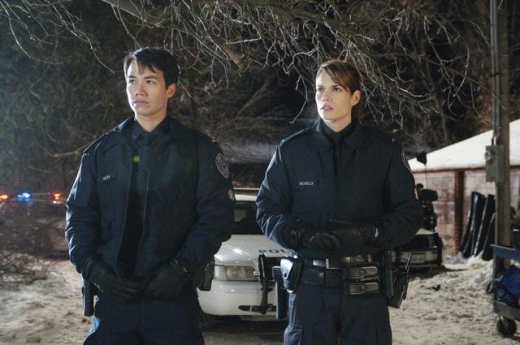 So... Andy and Sam will be dating? Out in the open and everything? Not exactly.

"They are both suspended at the end of the season," Cameron said. "Our consultants told us if two officers are suspended for conduct unbecoming, which is what they would have been suspended for, then probably the ground rules during their suspension would be that they're not supposed to see each other. So that was an interesting place to start.

Cameron added that Pete will not be returning next season and that "we're going to do some stuff with Gail romantically in Season 3," but, sorry, Gail/Dov fans, the show will "not pursue the Dov storyline. It will bubble away under the surface."

For more from the producer, read the full interview at TV Line now.

Tags: Rookie Blue, Interviews, Spoilers