America's Next Top Model Review: Ready for Some Football, Fashion
by Kate Moon at .
What a great episode of America's Next Top Model. The girls got to pose with an It Girl model in "Coco Rocha" while playing touch football with some NFL players for charity.  Let's break it down...
As the episode opened, the drama and tension in the house was palpable. But luckily the girls got to unleash it physically during the aforementioned on-field charity challenge.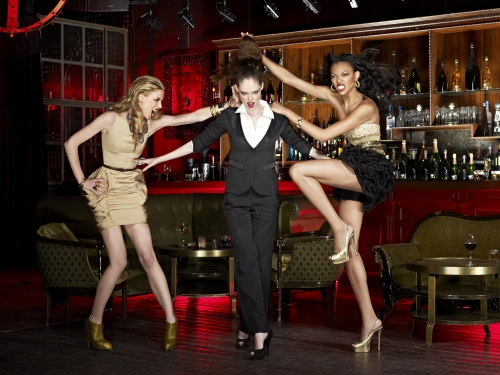 Bianca, Bre, Kayla and Lisa took it upon themselves to let loose, taking the football game very seriously: Kayla because she's a lesbian and apparently they have to win all sports, and Bianca because she hates Lisa, natch.

As if touch football in skimpy bikinis weren't difficult enough, the girls also had to pose "in the moment" as part of the challenge.Although they had some eye candy helping them out, most struggled with getting stylish shots in the midst of the game. 

It looked like one of the girls would be going home during the challenge, but Nigel psyched them out and merely announced that Kayla won some jewelry along with best photo for the touch football challenge.

In the spirit of model violence, the official photoshoot du jour involved a pair of models engaged in a bar fight with Coco Rocha, one of the hottest models today.Not only was Coco an impressive and striking beauty, but helpful and very sweet! 

A few of the girls shined, such as Dominique and Lisa. Unfortunately, Angelea found herself intimidated by Coco and Allison was lost at having to portray violence.I forsee some problems for Allison in the future until she learns to unleash some inner animal.

It's also worth noting that the outfits for the photoshoot were simply stunning; feminine, gauzy, and sexy to counter Coco's awesome menswear outfit.I found it to be one of the coolest concepts of All-Stars Cycle to date.  The noir setting of the bar is very cool as well.

As usual, Allison worked some magic and pulled out a gorgeous photo during panel. Dominique and obnoxious Lisa also got high marks from judges and Coco. On the other hand, Laura, Bre, and Alexandria were criticized for not being high-fashion enough.Coco also proved to be a valuable judge; honest but not catty.I'm a fan!

In the end, it was Bre who went home while Alexandria was saved.She left without a proper farewell from Tyra.There goes Bianca's last defense! 

What will happen next week? Will the girls gang up on her? Do you agree with the judges' decisions?

Tags: America's Next Top Model, Reviews
From Around the Web