Penn Badgley is a pretty down-to-earth guy - he says he does not consider being on Gossip Girl a "driving passionate force in life" - but he sure has a strong opinion about one particular topic.
Asked by Nylon Magazine, which has a long interview with him in its new issue, who his character Dan Humphrey is meant to be with, the 24-year-old actor answered without hesitation:
"Blair, actually. Definitely. I think Blair is Dan's soul mate."
Yup, he went there. He continues in detail: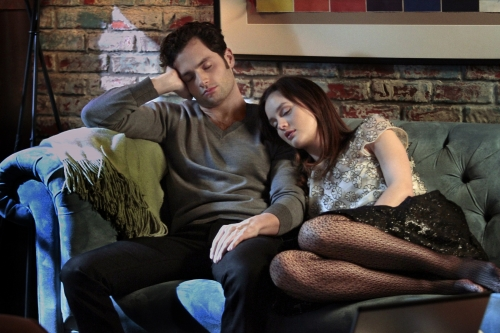 "I don't know if they're ever going to get together, but I'll tell you that I've never enjoyed any scenes on the show as much as those scenes with Leighton Meester, on a strictly intellectually as an actor. There's a whole other thing - like everything that happened early on in the show, like the obvious Dan and Serena stuff ... that moved me in a different way for obvious reasons, but strictly as an actor, those scenes with Blair are the best."

There's no denying that Gossip Girl's decision to transform the Dan-Blair dynamic into something at least quasi-romantic over the past year has been controversial. But do you agree with Penn?

Has it been worth it? We know they've kissed, and they maybe even had sex, depending on the truthfulness of he wrote in his book (see Gossip Girl promos and clips for Monday's episode).

Most people enjoy the interplay of "Dair" scenes to a degree, but some feel that Blair belongs with someone else we know, and that her character would never realistically date Dan Humphrey.

Are they destined to be together forever in the romantic sense, or at least explore that side of their relationship further? Or should/will they stay friends? Vote in our poll and comment below!

Are Dan and Blair soulmates?

Steve Marsi is the Managing Editor of TV Fanatic. Follow him on Google+ or email him here.

Tags: Gossip Girl, Interviews