Following a moderately successful series premiere, the jury remains out on Hart of Dixie. It features a great cast, but how fresh is the material? How accurate are the stereotypes? How hilarious is Levon Hayes?
Below, Editor-in-Chief Matt Richenthal and Senior Staff Writer Jim Garner let readers in on their recent instant messenger discussion of these topics, as they dissect Hart of Dixie and its chances for survival...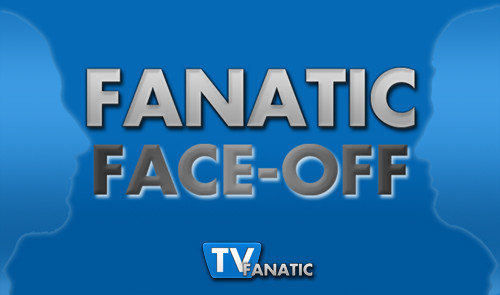 Jim: First impression?
Matt: It treaded in every conceivable southern stereotype and really didn't deliver anything we haven't seen before - Zoe took a rickety old bus down to a small southern town, whose only bus stop was miles OUTSIDE of town for some reason - but, hey, I love the cast!
Jim: Ok, I'm from the south, and honestly, the bus stops can be outside of town (but usually at a building). While it did tread across many stereotypes, it also played homage to Alabama with both a Roll Tide and Crimson Tide reference... and I love the cast as well.
Jim: Did you notice the mayor only spoke about himself in the 3rd person?
Matt: Yes, Matt Richenthal loved Lavon Hayes. He's loved Cress Williams since his days on Beverly Hills, 90210.
Jim: Do you think the Smokey and the Bandit reference was a little outdated for the target audience, given the movie is over 30 years old?
Matt: Smokey and the Who-dit?!? Just kidding. I got it, but yes. To many viewers, Burt Reynolds is a character played on SNL Jeopardy and that's it.
Jim: I also got it. I found it interesting that the mayor's favorite movie came out when he was most likely a toddler... On the other hand, I was having a real hard time with Rachel Bilson as Zoe. I know the actress is 30, but she looks 20 and acted 16 in a couple of scenes.
Matt: Agreed. Her number-one quality as an actress is her cuteness. And I may get in trouble for saying this, especially because I'm married to a doctor, but it's hard for a viewer to take a doctor seriously when she has those kinds of adorable mannerisms. There's a reason Zooey Deschanel's character on New Girl is not a surgeon.
Jim: Agreed, even as gruff as Tim Matheson is as Brick, I'm pretty sure he would be my choice on my PPO paperwork.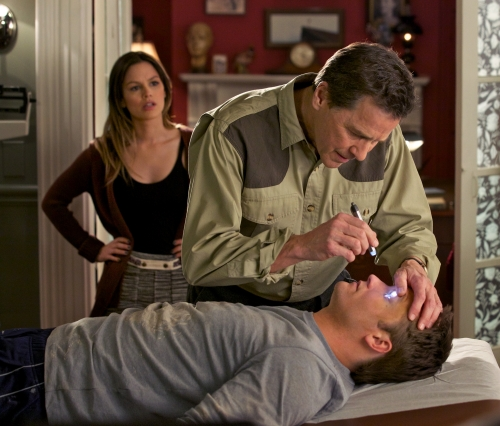 Matt: Speaking of the Breelands, you tell me, Mr. Southern Gentlemen: do those events exist? The kind Zoe walked in on when she first met Lemon?

Jim: OMG, yes... While the "Belle" balls are generally in Alabama, and her neighboring states, Texas has its own version. That being said, if it lasts more than a couple of episodes they will be milking it. Like any festival, it's yearly and only for a few days/weeks.

I was disappointed there was not one sweet tea reference in the entire episode.

Matt: Good call. It was one of my favorites aspects during my couple of times in Tennessee. Scott Porter told me the goal of the series is for viewers to want to live in Bluebell, for it to come across as some fantasy homeland. So... do you want to live in Bluebell?

Jim: (sigh) Dang it, yes... Honestly, I was tearing up at the end of the episode missing my family. Given that I now live in the San Francisco area, after watching the episode I had to go find some fried catfish. I know I'm a sap. You can say it.

Matt: You're a sap.

Jim: To be fair, I know or am related to someone just like everyone we met in the pilot. So, Porter has done a great job of embracing the southern personalities. Yes, I'm still a sap.

Matt: Hey, sap it up. I almost cried at a father's reaction to his daughter singing on The X Factor last night.

Jim: I'm curious if Bluebell is in anyway a nod to the Bluebell ice cream that is sold all over the south.

Honestly, if they can continue make a displaced Texan like me homesick, I think Hart of Dixie will be around for a while. I find it to be a refreshing change from the Blood, Magic, and Back-stabbing some of CWs other shows

Matt: Right, that's the question and/or catch.

This isn't a show about the supernatural. I wouldn't expect any crazy twists or turns... it's sort of a throwback to old WB shows such as Gilmore Girls. Just relatable, fun characters hanging out.

I'm not giving up on it by any means. The cast is too appealing and I trust Josh Schwartz and Stephanie Savage. I just can't say anything in particular stood out from the pilot.

Jim: That's the thing about pilots... they are one part introduction and one part test run. How many shows have we seen make small tweaks to truly improve itself in the 2nd episode?

For me if a pilot grabs me enough to watch the 2nd episode, then its really done it's job.

The second episode (and beyond) really has the job of maintaining my interest. I have already had two show this season that didn't get me to the second episode, and one of them you loved -- New Girl.

Matt: Although, ironically, I didn't watch that show's second episode. Still... it's Jess, man.

Jim: Jess? OH right.. see, I didn't get past it being Zooey and forgot her character name. But I have no trouble remembering Lemon, Brick, Levon, or Zoe...

Matt: Levon HAYES.

Jim: My apologies to Mayor Hayes.

Matt: So, let's wrap it up: I give the pilot a C, but it has A- potential. You?

Jim: I'm giving the pilot a B+ (it had me tearing up after all) and agree with the A- for potential, as I worry about Bilson portraying a credible doctor.

Matt: I worry that she'll never make it back to Orange County and Seth Cohen. Sorry, couldn't go the whole chat with an OC reference.

Jim: LOL.

Tags: Commentary, Hart of Dixie