America's Next Top Model Review: Greece is the Word
by Kate Moon at .
Yahsu, Greece! With only six girls remaining in the competition, America's Next Top Model took off to beautiful Greece this week.
In Crete, the girls were greeted by "dignitaries"- really just the bureau of tourism and the mayor - and asked to create a speech that defined them. Unlike previous seasons where at least one girl broke down from the pressure of commercials or public speaking, the All-Stars all gave solid performances here.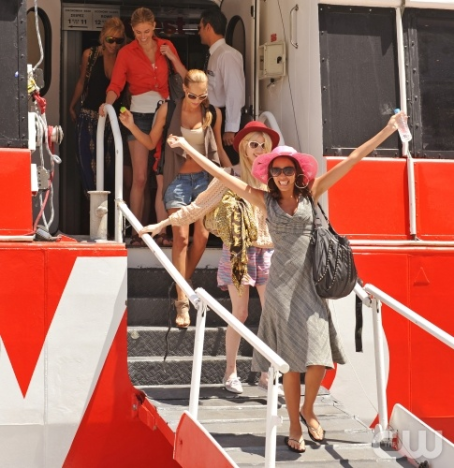 Laura faltered a little due to her dyslexia, but her sweet disposition was an asset. Angelea made the fatal flaw of being too comfortable by asking about the bathroom, but she at least used another Greek word! And, amazingly, none of the girls flubbed the Greek words, aside from Laura.

Allison won the challenge and a gorgeous bracelet a la Scarlett O'Hara. Despite Lisa's prediction that Allison's speech would be boring, I thought it was concise and dignified. And I loved how Lisa pointed out that politicians love girls in scanty clothing; it's good to know that she caters to that crowd, right?

The photoshoot was the sexiest yet this season, with the girls lounging in lingerie and rolling around in Greek salads. The concept was a little contrived, but it made for a fashionable shoot with all the vibrant colors.

When Shannon heard that she would have to model in underwear, she refused to do the shoot. While I'm in no way encouraging young models to throw off their clothes to model, I disagreed with Shannon's stance. Perhaps it was the way that the episode was edited, but she didn't have a good explanation for why she would model in bathing suits but not underwear.

If it's just semantics, it's honestly silly. It should be about how much skin she shows, not what she wears. Underwear and bathing suits can and are equally sexual, and Shannon's inability to explain herself ultimately sent her home.

On a happier note, most of the models dealt with the sun and the photoshoot brilliantly. Allison and Laura struggled with their health issues but otherwise pulled off the sexy olive oil, cheese, and lettuce as their props.

What did you think the first episode set in Greece? Do you agree or disagree with Shannon's choice?

Tags: America's Next Top Model, Reviews
From Around the Web