Glee Exclusive: Chris Colfer Previews First Times to Come
by Matt Richenthal at .
I instantly panic.
That's what Chris Colfer told me of his initial reaction to the many times over two-plus seasons on Glee that Kurt Hummel has been featured in a prominent storyline, from becoming prom queen to facing down a bully.
Look for this to be the case again on tomorrow night's "The First Time," a noteworthy installment previewed HERE.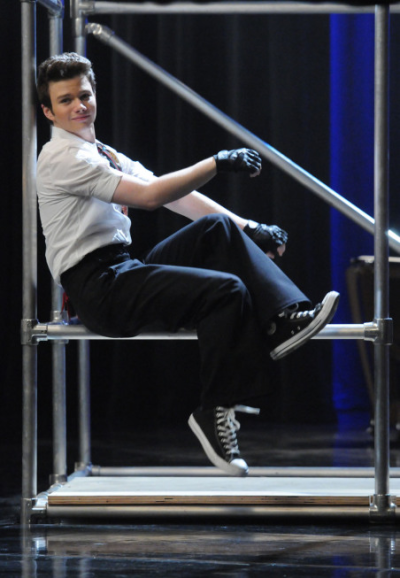 "The name says it all," Colfer said of what fans can expect from the episode. "Kurt faces a number of first experiences, from sneaking into a gay bar to dealing with competition for Blaine to, of course, losing his virginity."

It's that final development, of course, that led to the actor's panicked state. He admits it can be a challenge to suddenly be the "face of an issue." But...

"In the end, I never have a reason to worry," he said. "The writers always handle these situations so well and that's the case here. It's a very sweet and emotional scene."

And it's set against the backdrop of Kurt coming across someone Colfer describes as an "evil Warbler," Grant Gustin's Sebastian. This character, who debuts this week, will make it his mission to steal Blane from Kurt.

We don't like his chances, though, especially considering the chemistry that exists between Colfer and Darren Criss. The former said it didn't take long to establish, as both stars are "huge theater nerds," who "approach the material in a very similar way."

"Darren is just so passionate about everything he does," Colfer said. "I have nothing but positive things to say about him."

Expect Gleeks to have positive things to say about tomorrow night's episode, as well, which is also a showcase for Finn and Rachel and features the return of Karofsky. What else can we expect from Kurt beyond his imminent first time? Not much, Colfer laughs.

"He's losing his virginity, running his own campaign, helping his dad run one of his own. I'd say his hands are full."

Matt Richenthal is the Editor in Chief of TV Fanatic. Follow him on Twitter and on Google+.

Tags: Glee, Exclusives, Chris Colfer, Interviews
From Around the Web