The lines were drawn on this week's Body of Proof, "Shades of Blue," as it featured Megan's team going up against the blue wall and Peter forced to choose sides.
Curtis may have been a bit paranoid but that didn't make him wrong. The stakes were raised because this week's murder victim was an undercover cop. That meant every detail of the case would be scrutinized and the stress levels rose considerably.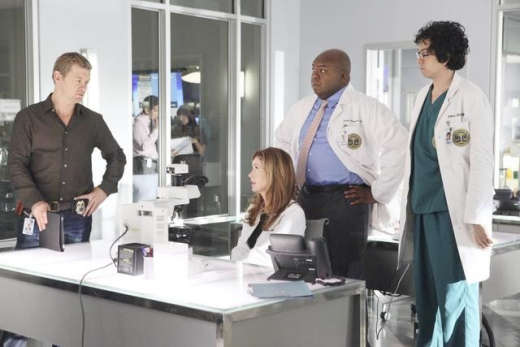 Peter felt trapped between his old team and his new one. Meeks had been his partner for six years and was the man who saved him when he'd been shot. Peter believed in his gut that his ex-partner hadn't committed murder.
Megan didn't understand that kind of blind loyalty. She's a doctor and a scientist. Evidence is the only partner she completely trusts. Those differing perspectives drove a wedge between these new partners.
I was a little surprised that Kate came down so hard on Peter but I kind of liked it when she told him:
 You're either on our team or you're not and frankly I'm OK with whatever choice you make but you're going to make it. Now. | permalink
That certainly drew the line of their relationship. She's his boss. She needed the job done and if Peter's not on board he needed to step aside. 

Although my one question was whether he should have been on the case at all. Peter was investigating his ex-partner. Wouldn't that be considered a conflict of interest? Shouldn't another investigator been put on the case?

The dynamic between Megan's team and the homicide squad was tense from the start. It seemed that Kate found a quick way to make it worse by reminding the Captain that his people should be sure to follow procedure. No one appreciates being told how to supervise their people and never less so than when nerves are already frayed.

Megan was going over board with the mandatory drug testing and I couldn't help but laugh when they handed her what Ethan referred to as the "big gulp" container of group urine. That seemed like such a boys club response.

I'm glad they found the murderer but the end left plenty of plot holes. We were left to assume that Detective Vasquez uncovered that Lopez was a dirty cop but we never got any details. And I found it hard to believe that an experienced detective wouldn't know to watch out for the slide on a Baretta.

We were spared any scenes with Dani or Megan's family and I was grateful for the break. And I also enjoyed meeting Bud's very pregnant wife. So many times on TV we're shown pregnancy as being joyous and wonderful. It was nice to see a character who simply felt overstressed by all of its scary realities.

So did you miss Dani? Did you think Peter was right to back his ex-partner and should Megan date the Captain? I think they'd make a cute couple. How about you?

C. Orlando is a TV Fanatic Staff Writer. Follow her on Twitter.

Tags: Body of Proof, Reviews