Chuck Exclusive: Yvonne Strahovski Teases "Edge of Your Seat" Finale
by Dan Forcella at .
"On the edge of your seat 'til the very last minute of the series finale" is how Yvonne Strahovski described the end of Chuck to me over the phone early Tuesday afternoon.
I've been sitting that way through the entirety of this final season, of course, which is why I was extremely pleased to talk to the star that portrays Sarah Walker on our favorite NBC spy comedy, as she spent the day in New York promoting Chuck and her new ad campaign for SoBe.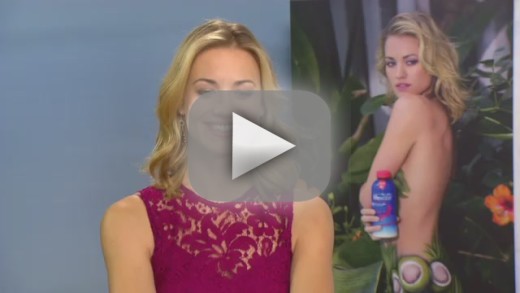 "There are definitely going to be some surprises," Strahovski said of the two-part finale. "There definitely was for me when I read them. It's a little bit shocking. The storyline sort of takes a turn that is unexpected."

I was pleasantly surprised to hear of some sort of a shift in the story as we head down the final stretch of the series. With some of the emotional payoffs the writers gave the audience recently - notably in "Chuck vs. the Baby" - I was a bit worried we might be in for a slow and uneventful finish.

That clearly is not the case, according to Strahovski, who also insured me that "there's definitely going to be some conflict there," in reference to the penultimate episode title of "Chuck vs. Sarah."

Before moving forward, though, sometimes you have to take a look back.  

"I'm so grateful to have been able to play Sarah Walker," Strahovski said when I asked her about the great work she put into the aforementioned episode, divulging that some of her favorite moments are "getting to do all the emotional stuff."

"I really feel like there has been a great character journey from the pilot to now," she continued. "Sarah was very much just the spy, and couldn't really communicate emotionally. In meeting Chuck she sort of became more comfortable in expressing herself. For me, it was very much the last piece of the puzzle to have met Sarah's mother."

And what a meeting that was. From the moment Cheryl Ladd showed up on camera, it just felt like she was meant to play Sarah's mom. Unsurprisingly, some of that feeling can be credited to a wonderful chemistry between Ladd and Strahovski. The latter told me the former star of Charlie's Angel "was so sweet and loving. It almost felt like she was my real mother."

Finally, in addition to teasing information about the Chuck finale, and analyzing some of the more recent episodes, Strahovski took some time to answer a fan question via Twitter. @sr_barker wanted to know if Yvonne was able to take anything from the Chuck set as a memento after wrapping up a month or so ago.

"I took my spy watch, and my other watch... my Sarah Walker watches," Strahovski told me. "I gave one to my dad and one to my mom as little souvenirs from the show."

Be sure to watch NBC at 8 p.m. EST the next three Fridays to see the conclusion of Chuck's final season. And come back to TV Fanatic to chat about the episodes.

Dan Forcella is a TV Fanatic Staff Writer. Follow him on Twitter.

Tags: Chuck, Exclusives, Yvonne Strahovski, Interviews
From Around the Web