Jane By Design Review: The Birkin Comes and Goes
by Carla Day at .
Jane was able to pull off an amazing runway show for Gray last week. And, her reward? An infamous Birkin bag for her own personal use. Probably more important than the bag, well... maybe not... was Gray's approval.
Gray is definitely not an easy boss to please. The runway show was just the beginning, and perhaps one of her easier tasks. With Gray leaving town, she left Jane in charge of a long list of jobs to complete, ranging from simple to nearly impossible.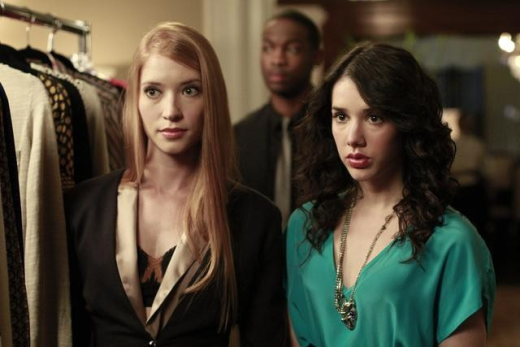 Jane's reliance on Billy to succeed is wearing thin. He is there to help drive her around, acquire impossible-to-find flowers and to clean up the party mess. Unfortunately, this relationship is too one-sided. And I fear that when Billy comes clean about Lulu, that will become even more apparent.

"The Birkin" was more about the relationships in each character's life than it was about Jane. To wit:

Billy and Lulu
Billy broke off his relationship with Lulu when she demanded they keep it a secret. Lulu's life became complicated with the high expectations of her father, the race for valedictorian and her friend's quest to find her a boyfriend. While Billy was off running whenever Jane called, Lulu was missing him. She realized she was miserable without him.

In the end, she declared her feelings for him and suggested they go public. Her declaration to Billy was incredibly honest. Something we have rarely seen from her. Will Billy or Lulu end up being hurt more when they go public?

India
At times, I feel sorry for India, but then she does something so despicable that it is impossible to like her. She wants to be accepted, to succeed and to find love. But, instead, she gets dismissed, ridiculed and constantly diminished by how others feel about Jane. Gray put it bluntly when she said, "You are no Jane." Her relationship with Jeremy looked to be getting consistent. I wouldn't call it serious, but it was moving in that direction. Unfortunately, that all changed when Jeremy gazed at Jane when she came rushing into work. India can't catch a break, but after she ruined the trunk party it is difficult to feel bad for her.

Gray and her boytoy and ... her husband?
I'm not sure which surprised me more, that Gray had a boytoy boyfriend, Brad, or that she had a husband, Beau. If I had to pick, I guess I'm more surprised by her relationship with Brad. Gray has been presented as extremely serious in her life and work. That seems inconsistent with her relationship with Brad. But you can't blame her, can you? Or, was she just acting out due to the break up of her marriage? It was shocking to find out she's married to her fashion rival. I hope Beau sticks around. Jane was right; he is a looker. And, it will be an adventure to see how he challenges Gray.

Jane is going to play a role in all of these relationships. Will she accept that Billy isn't fully committed to her and has feelings for her rival, Lulu? With everything that Billy does for her, she better be accepting of this relationship. She needs to be there for him, as he has consistently been there for her.

India is going to continue to be a problem for Jane. But, if Jane continues to act professionally, it becomes India's problem. Jane cannot and should not change because she draws the attention and approval of Gray and Jeremy.

Gray never should have asked Jane to handle the break up with Brad. That was not only unprofessional, but just crazy. Will Jane protest against these tasks in the future? Is a Birkin Bag worth it? I guess we will find out.

Which of these relationships do you want to succeed? Lulu's proclamation to Billy has me wanting to see if they can make it as a couple. I also want to see more about Gray and her husband! India and Jeremy can't break up fast enough, but I'm not sure it will happen anytime soon. Plus, there is Jane... will Nick give her another chance?

Carla Day is a staff writer for TV Fanatic. Follow her on Twitter and on Google+.

Tags: Reviews, Jane By Design
From Around the Web