With Once Upon a Time on its way back this Sunday - after experiencing its first character death to close out 2011 - will anyone else feel the Evil Queen's wrath? Or be on the receiving end of Regina's need for vengeance? And is there more to these characters than purely evil intent?
We checked in via phone with actress Lana Parrilla, who plays Once's Evil Queen and her Storybrooke counter part, Regina, to find out the answers to these questions and more. First: Does she view her alter egos as evil?
"No, I don't. I view her as complicated, very complex. I think there's a reason behind her actions. She always has a very strong case. And at the end of the day she's going to really convince you that what she's fighting for makes sense."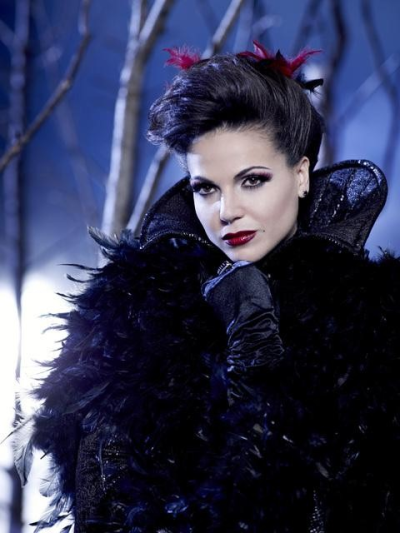 For audiences to relate to these characters, they can't simply be sociopaths, always plotting evil, and Parrilla tries to instill a human quality to the two personas she takes on.

"Regina's a very controlling person, very possessive, but that comes from a place of fear and deep love," the actress said.

When it comes to son Henry, Parrilla understands Regina's motivations, if not always her actions.

"She just wants a true connection with Henry. She wants him to love and accept her and Emma's a huge threat. I have friends who are adoptive parents and have said, 'what if the biological mother came into our lives and tried to take our kid?' That's what's on my mind. That's the place I come from when playing Regina."

With so many fans commenting on the Queen's killer costumes, I had to ask what Parrilla thought of them.

"I feel like I'm flying when I'm in costume," she said. "I can be as big and over the top as I want."

And is it safe to assume we'll be seeing more of that in the near future? What teases does the star have for upcoming episodes?

"There's a great Hansel and Gretel episode coming up and the Evil Queen has a hand in that story," Parrilla teased. "How we think we know Hansel and Gretel is not how we know them on Once. You'll get a sense of her need to love and be loved with these children."

Is Parrilla worried about being seen as evil in her personal life? Well, only by her cat, Lenny. As we spoke, the feline was meowing in the background.

"I'm giving him his asthma pump so he probably thinks I'm pretty evil right now," she joked. "He hates this."

Once Upon a Time returns with a new episode on Sunday night. Read through our interview with fellow star Raphael Sbarge for more on what to expect.

C. Orlando is a TV Fanatic Staff Writer. Follow her on Twitter.

Tags: Exclusives, Interviews, Once Upon a Time, Lana Parrilla