Happy 2012 everyone!
When Nate and Latimer clashed last week and Nate threw down the gauntlet in the final few minutes, it looked like we were heading to a showdown between these two power players. What we got instead was "The Gold Job," which served as a lesson in video game creation when Hardison turned the "Marks" into "Players," using logic based on "Double Prong Monkey Con."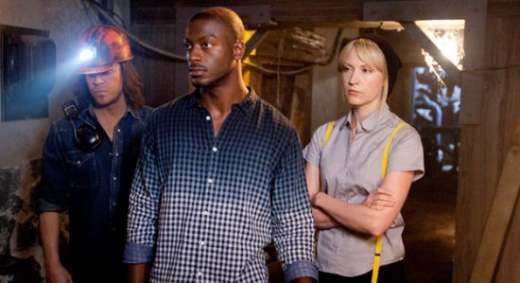 As a gamer, I really enjoyed Hardison's ability to turn a con into a live action video game. Did any other Portal fans catch that he named his voice activated computer "Glados?"

That said, I'm sure I'm not alone in my growing frustration with Leverage turning into the "Hardison Show." Hardison is awesome as the tech-savvy geek, sure. But I don't get why we need to see him try to do every role on the team, or get more screen time than any two other characters combined.  

I understand the team has grown closer and individuals want to fill in when needed in other roles, such as when Parker was getting grifting lessons from Sophie. I was behind Hardison learning how to defend himself from Eliot; it came in handy in the frat house when several guys jumped him. 

I also get him wanting to try his hand at leading a job, it's natural in any profession to want to expand and grow your skills. What drove me near bat-crap crazy was the cocky attitude and the repeated pokes at Nate for how he runs a con. 

I'm hoping his job going bust on him and the feedback he got from Nate brought him down a peg and that Hardison will check his ego at the door next time Nate lets him lead a mission.

Isn't lesson number-one about doing a new job is to not be over confident? 

The heart-to-heart Nate and Hardison enjoyed at the end of the episode reminded us all why the former is the true leader. He's humble and he knows how to teach, encourage, and even pick up his team when it needs it. The letter Nate mailed to Hardison with the three steps to pull off the con was priceless.

Finally, I'm not sure if Voodoo Doughnuts sponsored this episode or if the product placement was there to make sure we knew they were in Portland (given their main locations are in Portland.) Either way, I have Parker to thank for craving their "The Loop" doughnut and being over 650 miles from the nearest one.   

Overall, it was a decent offering, though I was disappointed with the lack of Latimer; next week we have the return of Nate's father (Tom Skerritt), who we have not seen in a good while. It will be interesting to see what mayhem he brings with him.

Jim G. is a TV Fanatic Staff Writer. Follow him on Twitter.

Tags: Leverage, Reviews
Want more Leverage?
Sign up for our daily newsletter and receive the latest tv news delivered to your inbox for free!
From Around the Web
More From TV Fanatic
It's getting crazy on Gang Related! Lines are being crossed by gangsters and officers, is anyone in the right?
On Rookie Blue, Andy assists Sam in a missing persons case. Elsewhere, an undercover operation to track down illegal handguns sends Chris scrambling to maintain control.
Join us for the rewatch of Gossip Girl Season 2 Episode 9 "There Might Be Blood." What did you think of this episode?
Duck Dynasty Season 6 Episode 5 was all about re-branding. Read on for our latest rundown.
---