Switched at Birth Review: Taking the Blame
by Leigh Raines at .
This week's Switched at Birth really belonged to Daphne. In "Self Portrait With A Bandaged Ear," she found out her best friend got arrested, she wasn't recruited for the basketball team for her talent and she finally confronted her father Angelo.
Let's start with the biggest revelation: Daphne and Angelo. I love that Toby immediately knew that Daphne was bothered by something far more important than just a crappy basketball coach. Call it sibling instinct?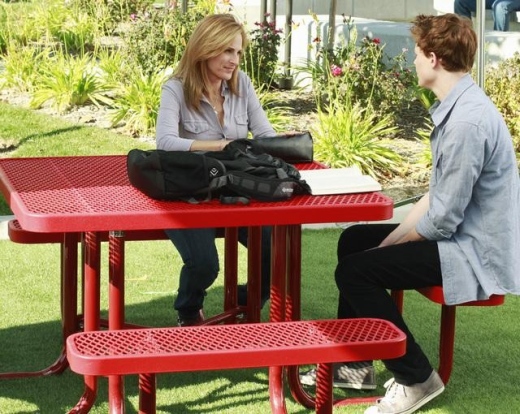 Finally after all of these years, Daphne was able to ask her father why he abandoned her. He insisted that it wasn't about her being deaf, but rather that he thought she wasn't his daughter. When he caved and said that being deaf did factor into it, Daphne must've been experiencing a million emotions. Surprisingly, one of them was probably relief that she finally got some answers.

On a sidenote, I'm glad that Bay brought up to Angelo the fact that he bailed on Daphne. Daphne and Bay might not see eye to eye, but at least they get the fundamentals right.

Probably the biggest thing Daphne and Bay don't agree on is Emmett. That arrest must have been so scary for him and it probably reinforced that he wants speech therapy. He couldn't yell out to the officers and explain he was deaf. I can only imagine how incredibly frustrating that must have been.

It doesn't look like Melody is going to ease up on Bay anytime soon. At least Daphne and Emmett are getting along. It was heartbreaking to see those two best friends on bad terms. Sometimes events happen that are bigger than all the petty fighting. This was one of those times.

I'm thinking Regina will finally soften to Kathryn's book; at least this is what I'm hoping. It would be a bestseller! Now how about what the fired lawyer said about Angelo? Do you guys trust him? Do you think that Regina is making a mistake getting involved with him? Sound off in the comments!

Leigh Raines is a TV Fanatic Staff Writer. Follow her on Twitter.

Tags: Switched at Birth, Reviews
From Around the Web