Justified Exclusive: Erica Tazel on Understanding Rachel Brooks
by Dan Forcella at .
Through 30 episodes of Justified, we're all still getting to know Deputy Marshal Rachel Brooks. The same can be said for the woman behind the badge, Erica Tazel, who learned of her character's Tennessee upbringing only a few days before shooting last week's "The Devil You Know."
Just as Mr. Limehouse did, the audience learned during the hour that Rachel is a southern girl hailing from Hendersonville, Tennessee. Tazel is also from what many consider the south, "born and raised in Dallas," she told me over the phone late last week, which helps the actress "draw on the rhythms" of her family.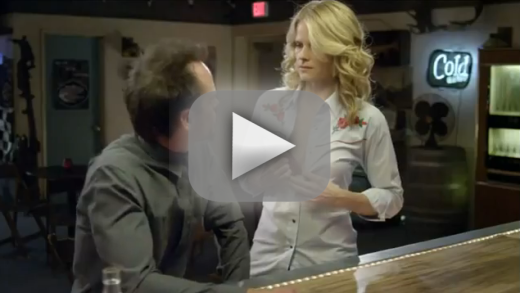 "Any time I feel like I'm getting away from that," Tazel continued, "all I have to do is have a five-minute conversation with somebody from home and I'm like - oh yeah, there it is."

The viewers gained more of an understanding of where Rachel comes from last week, but it was in "Cut Ties" - when Rachel hid in the attic and took out the intruder with a single shot - that we learned more about why Art Mullen refers to her as his best Marshal.

"An opportunity like that gives the audience a chance to see that she can go out, operate on her own, and think very quickly on her feet," Tazel said of the attic scene. "She will do what she has to do in order to protect herself, and to protect the subject that she's been asked to look after."

While there won't be an onslaught of Brooks throughout the rest of season three, Tazel told me that she will be involved in the upcoming episode, "Thick as Mud," and will have a great opportunity to shine in episode 11, where Rachel gets to "walk into a situation, and stand on [her] own two feet in the face of what could potentially be a gnarly situation."

What else should we expect near the end of Justified's third season?  

"In true Justified form, it's going to get pretty dirty," Tazel teased. "They're not backing down from that, so buckle your seat belt and get ready for a ride because we are on a collision course for sure."

Finally, like the rest of us, Tazel has recognized how great everyone involved with Justified has been over the first two-and-a half seasons.  

"In terms of our guest cast, we've had an embarrassment of riches."

Her only concern with that fact is that she hasn't had the pleasure to act alongside Margo Martindale, Neal McDonough and the like more than a few times over the course of the series.  

"I would love to [have] the opportunity to play more in the overarching story of the season... it would allow for the opportunity to play with these phenomenal people who are coming through [Justified]."

Learn more about the wonderful Erica Tazel's Deputy Marshal Rachel Brooks as this third season continues Tuesday night at 10:00 p.m. on FX. Come back to TV Fanatic for a detailed review following the episode.

Dan Forcella is a TV Fanatic Staff Writer. Follow him on Twitter.

Tags: Exclusives, Justified, Erica Tazel, Interviews
From Around the Web