Community Return Promo, Red Carpet Scoop: Everything. Will. Chang.
by TV Fanatic Staff at .
Prepare yourselves, Community fans: when this NBC sitcom returns with new episodes on March 15 everything we know will... Chang.
So teases the amazing extended promo for the funniest show on television, which premiered last night on E!'s The Soup.
Check it out now and then read on for scoop from the PaleyFest red carpet, as TV Fanatic caught up with various cast members and tried our hardest to keep a straight face while gathering intel about the rest of season three: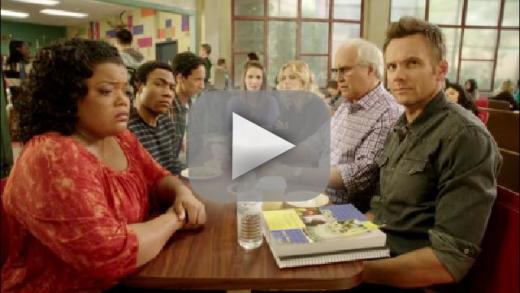 Alison Brie on episodes to come: There's a  "Law and Order episode, Annie's got some good stuff. We see an Annie and Jeff pairing - not necessarily romantically. Also, there's a great Annie and Abed episode. But I don't want to give away too much about it, but it involves the dreamatorium. It gets a little kooky."

Danny Pudi on becoming a father during the show's hiatus: "Thank God I got to deliver a baby last season. I was way more prepared."

Gillian Jacobs on excitement and Oscars: "We're going to blow your mind, unlike anything you've ever seen," the actress said in preparation for Community's return, adding when Jim Rash walked by: "He won an Oscar! Tell me that's insane? I started crying really hard when he won. I was blubbering like a baby."

Rash on what's ahead for Dean Pelton: "John Goodman comes back...There's a lot more of him using his power to make the Dean mess up even more. The Dean has scrambling to do to save his school."

Joel McHale on the passion of viewers: "Their response was so tremendous that I don't think there's anything we could have done to create what they did with the flash mobs. With the occupy NBC thing... it was tremendous."

McHale is also optimistic about his show's renewal chances.

"We don't have any competition on Thursday nights," he said. "I am not worried about American Idol, The Big Bang Theory or March Madness basketball. That will be fine."

Tags: Community, Interviews, Promos, PaleyFest
From Around the Web