The solid duets were flowing like wine in the Cougar Town cul-de-sac during Part Three of The Voice's Battle Rounds. Maybe nobody was quite as impressed as mentor and former American Idol winner Kelly Clarkson, who said "I wish they woulda done that on the show I was from" about the interesting semifinal format.
BURN!
While they may force a few dissimilar contestants to fight through songs that don't quite fit their styles from time to time, the Battle Rounds have also given the audience an opportunity to not only watch these world famous coaches give in-depth instruction, but to get into it and perform with the contestants in order to help them interpret their respective song.
I absolutely loved watching Blake Shelton rip it up with ALyx on the mini stage in his barn, and I couldn't get enough of Xtina going toe to toe with Jonathas on "No Air." Those personal touches are something no other singing show really gives us at this point. Now let's get to the battles...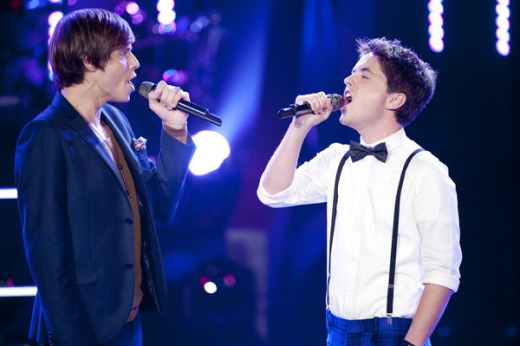 Nathan Parrett and Pip face off for a spot in the live shows.
Team Adam - Pip vs. Nathan Parrett - "You Know I'm No Good"
The Battle: This was a matchup that was unfair from the get go. There has been a lot of Pip publicity, and he had all four judges turn around in his blind audition, so it would be tough for Adam to justify sending him home. Thankfully, the kid made it easy for Adam, and knocked this performance out of the park. He was powerful while seeming effortless. While Nathan was good, and had a nice tone, he couldn't compete with Pip here. The two of them sounded good together, making for the first of a number of great duets this week.
My Choice: Pip
Adam's Choice: Pip
Battle Grade: A-
Team Cee Lo - Erin Martin vs. The Shields Brothers - "What's Love Got To Do With It"
The Battle: Yikes. This was not one of the aforementioned solid duets. Adam called it weird, but I would say it was just bad. I can't believe one of these two had to make it through, and Anthony Evans from two weeks ago was sent home. Poor matchups are one of the biggest problems with this format. Erin missed a ton of notes, and didn't even try to attempt others. The bros just weren't good. She tried more, and with a song better suited for her, Erin would probably do better in the live shows, but at least the bros didn't make me want to jump off a cliff.
My Choice: Shields Brothers
Cee Lo's Choice: Erin
Battle Grade: F
Team Xtina - Ashley De La Rosa vs. Jonathas - "No Air"
The Battle: Ashley missed a couple of big notes early and late, but her tone, and the promise she showed in the performance made her the more interesting choice. Jonathas was more polished, and a better overall performer, but his voice really wasn't up to the level where he could seriously compete in the live shows. The two of them did nicely with the duet as a performance, but not all that well with the singing.  
My Choice: Ashley
Xtina's Choice: Ashley
Battle Grade: C+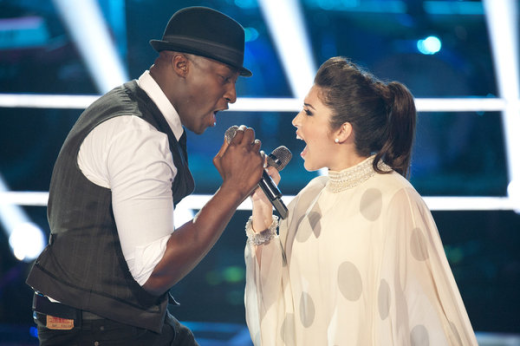 Who made it through between Jermaine Paul and ALyX?

Team Blake - ALyX vs. Jermaine Paul - "Get Outta My Dreams, Get Into My Car"

The Battle: Blake and wifey Miranda kept harping on ALyX to let loose and have fun, and it seemed like she was going to make that effort in practice, but none of it came through on stage. Luckily for us, Jermaine was so good and entertaining that it didn't really matter what ALyX did.  She sang her part well enough to make for another nice duet, but she had no chance in this matchup. His power, his tone, the runs he made, and his growl, all added up to probably my favorite single performance of the night.
My Choice: Jermaine
Blake's Choice: Jermaine
Battle Grade: B+

Team Adam - Angel Taylor vs. Katrina Parker - "Bleeding Love"

The Battle: Maybe Angel was having pitch issues in practice - and I will take these masters' words for it - but in not even attempting to go high in the "keep bleeding" moments at the end of the performance, Angel Taylor lost this battle. She wasn't nearly as unique and interesting without those little moments, and it allowed Katrina to outshine her. Katrina seemed much more comfortable on stage as well, and had a couple of moments where I thought she could be fantastic. Together, the two of them sounded great, and this was probably my favorite duet of the night.
My Choice: Katrina
Adam's Choice: Katrina
Battle Grade: A

Team Blake - Gwen Sebastian vs. Erin Willett - "We Belong"

The Battle: I know Blake Shelton is a professional, and he wasn't going to show favoritism because of someone's personal life, but how could you not send Erin through knowing what she was going through at the time? It also helped that she has a gigantic, powerful voice that sounded great! Gwen was also very good with her falsetto moments and country twang. Then again, Erin had the booming vocals with the raspy tone. Both of these ladies were right up my alley.
My Choice: Gwen
Blake's Choice: Erin
Battle Grade: A-

There is only one more week of Battles before the live shows begin. Six more contestants will make it through next week to sing on for your vote.

Who was your favorite this week? What was your favorite duet? And how hilarious was it that Babyface compared The Shields Brothers to Wayne's World? Party Time. Excellent.

Relive all the action from the first eight episodes at our The Voice quotes page, and our The Voice photos page, and then let us know who you're rooting for in the comments!

Dan Forcella is a TV Fanatic Staff Writer. Follow him on Twitter.

Tags: The Voice, Reviews