"Some Kind Of Hero" brought us three heros in one episode and the emotions that swirled around it all were almost overwhelming.
First Jamie saved the baby from the burning building.  Um, where were the parents?  No one ever answered that but I suppose it wasn't the point.  Jamie saved a life and the press was scrambling to cover it.
Frank should have been the proud papa and he was, but that was overshadowed by the police commissioner and protective father 
That Jamie's undercover operation could come back to bite him wasn't a new thought.  I'd be surprised if the mob family doesn't figure out who he is sooner or later.  He's the commissioner's son for goodness sake. 
This time they dodged a bullet thanks to Sgt. Renzulli.  How odd it must have been to take credit for a heroic act you never committed.  But by putting on this act he was actually saving his partner's life.
I liked the way this story rippled through the Reagan clan.  Danny told a shocked Erin who lamented that she couldn't lose another brother.  Frank was barely keeping his emotions in check.  Yes, he was proud but he was also terrified and it showed.
In a Blue Bloods quote, Frank even bemoaned that Jamie couldn't enjoy his moment...
Frank: Sorry for what? Saving a baby? Doing your job? | permalink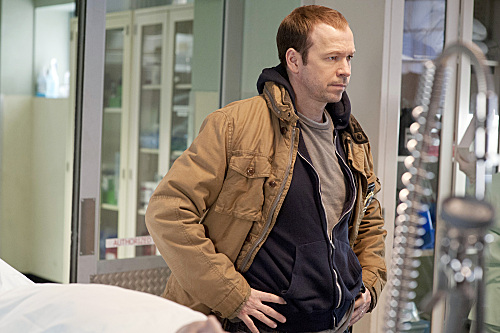 Danny had his hands full with other matters.  How do you say no to an 11 year old who asks you to take a second look at his Dad's suicide?  Danny not only told the kid he'd do it, he took the job seriously.

Thankfully he had some backup.  If it weren't for his father asking for the body to be re-examined and his sister pushing through a subpoena, he might have hit a dead end.

I loved how Jackie came in and helped calm things down after Danny had ruffled so many feathers.  As usual these two make a great team.  She even came in on their day off and had Danny's back when Erin questioned if the shoes were in plain sight.  Of course the audience never saw where those shoes were but it wouldn't have surprised me if they were sitting in the Inspector's closet.

Danny may not have saved a life, but taking an 11 year old seriously and giving him closure made Danny a hero in my book.

Although the Reagan Sunday dinner wasn't as much fun as they've been, it was touching to watch Erin toast her brothers.  I was sure they were all thinking of the ones who were at the table and the one who wasn't.  Leave it to Blue Bloods to never forget to honor family.



C. Orlando is a TV Fanatic Staff Writer. Follow her on Twitter.

Tags: Blue Bloods, Reviews