Almost every week of this season of In Plain Sight has left me saying the same thing. I am so going to miss this show.  "Sacrificial Lam" was no exception.
This final season has been so achingly good that I'm mourning the character of Mary Shannon before she's even gone. Tonight she tracked her dying father while dealing with their history, not to mention the FBI trying to link her to her daddy's crimes. Nothing is ever easy for Mary.
James Shannon, if nothing else, proved to be complex and quite simple all at once. He hunted down the man who took his son's life and killed him. A bullet to the head got the job done without preamble. Then he moved on.
Next stop was Florida where in a heartbreaking scene he found Jinx. He apologized, said thank you and goodbye all in about 30 seconds. He definitely deserved the slap she delivered and so much more for all he put her through. The look on Jinx's face ran the gamut of emotions from anger, to love, to sheer shock that she was staring at this man who left her to raise their two young girls 30 years ago.
I hope she had the sense to call her sponsor after she got off the phone with Mary. 
My only disappointment was that we haven't seen Brandi all season. I know she was just a baby when their father left but it would have been nice to have her be a part of this story. After four seasons of Mary, Jinx, and Brandi, the family just didn't feel complete without her.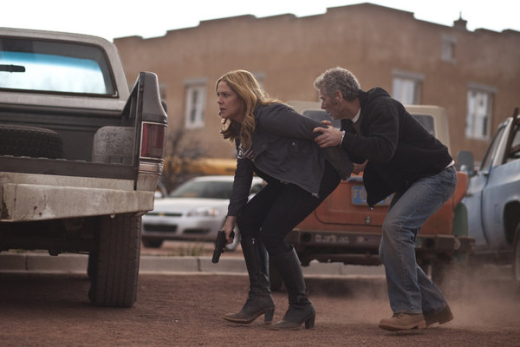 As far as hunting down James Shannon went, the FBI agent's hatred of Mary became almost comical but as always I loved the way Stan handled it with both calm and derision as he did in this In Plain Sight quote…
Stan: I've got one of my best inspectors compromised. Maybe you could fake a little concern, for fun. | permalink
But I have to say I liked Mary's response even more…
Mary: Christ, Snidely, shouldn't you be out there tying some girl to the railroad tracks. | permalink
Yup, he just lacked the twirly mustache to make the act complete.

Despite the incredible stress of risking her career and hunting her own father, Mary's sarcasm never failed her and it's one of the many things I'm truly going to miss.

Every time Mary turned around, Marshall was there the way he's always been and it's a fact that can no longer be denied…by anyone. 

I've grown to really like Abigail. She's sweet and funny and Marshall's right, she gets him. She gets his jokes and his literary references and they have fun. In many ways they're good together but they've both been ignoring the 800 lbs. gorilla in the room. It first lumbered into view last season when Marshall tackled Mary to the ground when the bullets started to fly leaving his girlfriend to fend for herself.

Yes, it was easy to justify. Mary was pregnant. Marshall was being chivalrous but the reality was that when life and death were on the line, his first instinct was to protect Mary. Abigail may have rationalized that moment but I highly doubt she's forgotten it.

And as Marshall left her standing alone at their own party to run to Mary's side once again, you could see her heart was breaking even as she told him everything was fine. The girl would be a fool to marry him with this giant, unspoken chasm between them because it will only get worse.

When the worst happened and the reality of her father's death came crashing down on her, it was Marshall who was there to hold Mary together, hold her up. 

As much as it hurts me to say it, there's only one episode left on In Plain Sight. Where do you think Mary's story will end?




C. Orlando is a TV Fanatic Staff Writer. Follow her on Twitter.

Tags: In Plain Sight, Reviews