In last week's episode of Once Upon a Time, we learned who August was NOT. Here, we finally discovered the true identity of August Booth: is no longer just "The Stranger," he's also Pinochio come to life.
But with one proviso: he'll remain a real boy... er... man, only if he is brave, truthful and unselfish. Well, now we know what that pain in his leg is whenever he lies, or do we?
I honestly thought that was August's trump card, that when he showed Emma his leg she'd begin to believe. Unfortunately, August saw his limb turn to wood but Emma saw no such thing. Was that because there's no magic in Storybrooke or because Emma was in complete denial about her destiny?
In the fairy tale world we were transported back to the moment the magic wardrobe was created and it was great to see those dramatic scenes of Emma's birth that started the show so many months ago.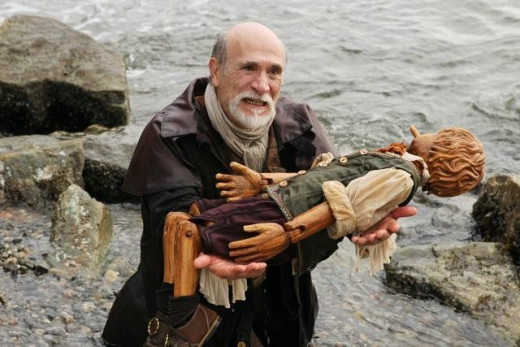 I couldn't blame Geppetto for being a bit selfish. He was trying to save his son but in doing so he linked August's fate with Emma's. The longer she resists her place as curse buster, the harder this will be on August. What happens if he continues to turn back into a puppet. Will those in the know see it happening but those who can't see the magic simply be watching him die?
August might be highly motivated but Emma's a born cynic. I can't imagine what it will take to change her mind if she can't actually see the magic. In this Once Upon a Time quote she was pretty blunt in her reply to August:
August: You're our only hope.
Emma: Then you're all screwed. | permalink
That Emma now wanted Henry as her son was a huge step for her but to take him and run? That just seemed reckless. What's her plan and what happens if she and Henry actually leave Storybrooke?
Across town, Mary Margaret told off Regina but also forgave her, which baffled me until she explained.
Mary Margaret: Your life must be filled with such incredible loneliness that your only joy comes from destroying everyone else's happiness. | permalink
She's right in that Regina's existence is sort of sad and pathetic but it also makes her dangerous.

David was Regina's knight in shining armor when her car broke down. Ummm... did he not know that she set up Mary Margaret for murder? I suppose if Mary Margaret wasn't speaking to him perhaps not. That's the only explanation I could come up with for him being so cordial.

Thankfully he only took Regina up on her lasagna and not her offer of seduction because that would have ruined the character entirely. But if he's considering Regina a new friend that could put him on a treacherous path, especially since David known for being clueless.

Little by little, the list of people in Storybrooke who know there is a curse continues to grow: Regina, Mr Gold, Henry and August. Who will be able to convince Emma of her destiny? With two episodes left, what's your guess for the future of Storybrooke?

C. Orlando is a TV Fanatic Staff Writer. Follow her on Twitter.

Tags: Once Upon a Time, Reviews