The Voice Results: To The Semifinals We Go
by Dan Forcella at .
There was a performance by Florence and the Machine, a lot of recapping of Monday night some last chance performances, and a couple of eliminations on the latest installment of The Voice Results Show.
Who was saved by America? And who was saved by the coaches? Let's find out...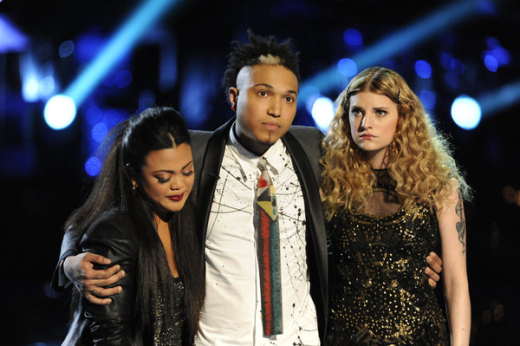 Cheesa, Jamar, and Juliet awaiting the news of who America saved.

Team Adam

Saved - Tony Lucca

Mathai - "Cowboy Casanova"
This was a lot closer to her disaster on Monday than her quality performances of week's past. The song was just too big, and she didn't change it enough to fit her softer quirky voice. If she was going to continue to give us performances like that, I won't mind missing her.
Grade: C-

Katrina Parker - "Perfect"
With her first note I already decided that I would pick her over Mathai. I could have done without the increased amount of vibrato, but her tone is just as interesting as Mathai's and she has much more power. This was decent, but it never got any better from that first note.
Grade: B-

Watching Adam try to explain his decision on who he was going to save was like watching Fred Armisen as Nicholas Fehn on Saturday Night Live's Weekend Update. The dude was babbling all over the place before finally choosing to stick with Katrina Parker. It really didn't matter. Neither was going to make a dent in the semifinals.

Team Cee Lo

Saved - Jamar Rogers

Cheesa - "Already Gone"
As President of the Juliet Simms Fan Club, I wasn't excited to hear how truly tender Cheesa sounded at the start of this performance. We knew she had the power, so when she picked it up it after that, it wasn't surprising. It was a good powerful vocal, but like the judges said, it was a bit off for the most part.  
Grade: B-

Juliet Simms - "Torn"
Right from the word "go" Juliet was back with jabs to the face in this boxing match of a singing competition. With every growl she only cemented her spot as my favorite singer on The Voice's second season. The thing about Juliet is that it doesn't matter if she's singing Aerosmith or Natalie Imbruglia, she makes it feel like Juliet, and that's a recipe for success.
Grade: A

Cee Lo made things a lot easier by saving Juliet Simms in a timely fashion. That was the decision he had to make, and the other coaches made it a lot easier by pointing out that Cheesa was flat in her performance one after another.

So Tony Lucca, Jamar Rogers, Katrina Parker, and Juliet Simms will join Jermaine Paul, Lindsey Pavao, Erin Willett, and Chris Mann in next week's semifinals of The Voice. I can't wait to see who performs what songs, but for now let us know which elimination you are upset about in the poll below...

Dan Forcella is a TV Fanatic Staff Writer. Follow him on Twitter.

Tags: The Voice, Reviews
From Around the Web