Law & Order: SVU Review: The Client List
by Teresa Lopez at .
Wow! Quite the shocking cliffhanger to this season of Law & Order: SVU.
"Rhodium Nights" began as an intriguing probe into the mysterious circumstances surrounding the death of an underage escort at a bachelor party with an elite guest list. Over the course of the episode, the drama and suspense rose as the detectives targeted a prolific New York madame, and then started to figure out why she'd stayed out of trouble for so long.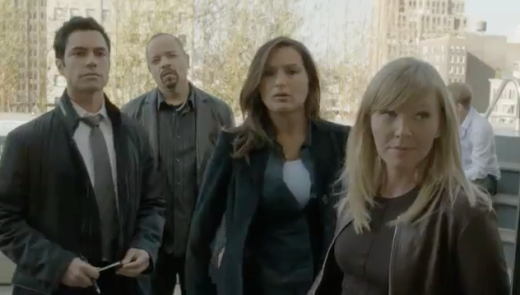 The initial investigation into the death of the escort was a little slow, but it wasn't long before the bachelor, the police commissioner's son, turned over a video of the evening's events, and high-profile news reporter Clayton Hannigan admitted to moving the body out of his bedroom and into the pool. Even though there were secret service agents and sports stars at the party, they're involvement wasn't nearly as detrimental to the case as the root cause of all this trouble - a turf war between two escort services.

Benson was quite frustrated with Cragen's delicacy in handling the case, especially when he suggested it might just be passed off to another department or even the DA's office where it would quietly go away. Benson has always believed in treating everyone (including cops, but only those she doesn't personally work with) equal under the law, and Cragen usually backs her way of thinking. Why was he being so tentative about this case?

It turns out, Cragen is being set up. At first, he is given a vague warning when someone slips pictures of him undercover with a Russian mail-order bride. He takes the message to heart, but doesn't really have his detectives back off quite yet.

Things get much worse after his detectives bust Delia Wilson for running a prostitution ring and continue to investigate her involvement in the death of a former governor. Carissa, one of the girls working for Delia's rival Ganzel, comes to Amaro because she's worried about her safety. The very next day, Cragen finds Carissa's lifless (and bloody!) body in his bed. Delia is extremely dangerous, and she must have some serious dirt on the upper brass if she's avoided charges all this time. She had to have ways of getting those pictures of Cragen and finding a way into his home.

What's going to happen next season?  Will anyone believe Cragen is innocent?

Speaking of Carissa, she had some interesting moments with Amaro. With some very intuitive knowledge about his home situation, she propositioned him and Amaro looked tempted. There were some sparks between the two, enough to make Cragen caution Amaro about his behavior. Since Carissa won't be back next season, it's safe to say that Amaro's wife doesn't have to worry too much. But, what about their marriage? Is there any hope they can repair the damage of his distrust?

The cliffhanger really renewed my interest in catching the next season. How about you?

Tags: Law & Order: SVU, Reviews
From Around the Web