The Borgias Review: Do You Perhaps Take Gold?
by Dan Forcella at .
Similar to Sons of Anarchy at its best moments, the second season of The Borgias has done a fine job at showcasing both the outside and inside threats to its protagonistic family in concert.
While those coming from elsewhere - such as the Sforza forces or the Friar Savonarola - have been pushing the story of the season along, it is those issues close to the heart of the Borgias that has interested me most since the premiere.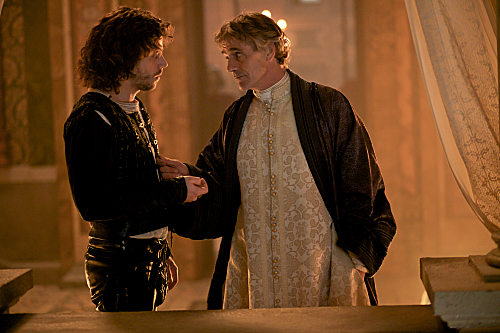 The epicenter of the series' success continued to be Francois Arnaud's work as Cesare Borgia during "Day of Ashes." The eldest son of Pope Alexander kept striving towards earning the armor fit for the leader of the Papal Army, but per the usual, Rodrigo still didn't agree.

Watching Cesare use his "stray dogs" to take out the caravan, and steal all of the Medici gold, was fun, but it wasn't enough to change the Pope's mind. At the end of the day, that was all that Cesare was looking for. He wants to be the "one son in amour."

We all know that the Pope wants one in armor and one son of the cloth, but what Cesare doesn't understand is that it isn't his lack of skills in battle that is preventing him from taking control of the armies. Rather, it is Rodrigo's complete lack of faith in Juan to help in any other way than in a suit of armor.

I am hoping that this idea comes into play when Juan finally returns home. It feels like it has been forever since we have seen him.

The other main issue inside the family Borgia that has me most intrigued is the increased level of power that Lucrezia is showing over her parents. She is growing older, and in doing so, she seems to be able to do whatever she wants.

In season one we saw her placed into a marriage that absolutely ruined her for a good amount of time. Whether that experience got to Rodrigo as much as it did everyone else, and that's why he is cutting Lucrezia some slack, or the growing child is actually taking control of the family, I liked watching it happen.

All of that isn't to say that the forces from outside the Borgia home weren't also great during "Day of Ashes." Rodrigo honestly thinking the lightning bolt was God's disappointment made for some hilarious moments of Lent. My personal favorite moment was when the Pope admitted a poisoning would brighten the gloomy day they were having.

Speaking of poisoning, Della Rovere's attempts to strengthen his pupil by giving him the poison time and time again is certainly leading up to something good... or bad, depending on the outcome.

Cesare's takedown of the caravan, the Friar turning down the offer to be a Cardinal, and the ladies continuing to make strides for the poor, all made for an interesting sixth installment of The Borgias second season.

What did you think of the hour? Was it one of the better outings of the year? Sound off in the comments!

Dan Forcella is a TV Fanatic Staff Writer. Follow him on Twitter.

Tags: The Borgias, Reviews
From Around the Web