Over the last few weeks, cast members on the new Dallas have been everywhere promoting their show... and with record breaking ratings for the premiere, it has certainly paid off. So I was thrilled that Josh Henderson - who plays the legendary J.R. Ewing's son, John Ross - was able to fit in one more interview.
He was happy to talk about what it was like to step on to the Dallas set, what kind of advice he got from Larry Hagman and whether he shares anything with his bad boy alter ego.
-------------------------------------------
The cast has done a crazy amount of publicity for the show over the last few weeks. You must be exhausted.
Josh: Yeah, you know it was kind of a world wind press tour and myself and Linda Gray (Sue Ellen) we were the only ones who didn't get to come home. So we were out there for weeks just kind of going city to city and meeting people, and doing screenings. At the end of the day I was exhausted and I don't sleep that well in hotels but it was a ton of fun because people are so excited about the show. It helped us kind of keep going and keep our energy up.  It was great to meet so many people.
Are you back home now? Is LA home?
Josh: Finally back in LA, yeah. It's not where I'm from but it's been home for 10 years and I'm comfortable here. I came home to some good weather and I'm glad to be back.
But you're originally from Texas?
Josh: Yeah. Born in Dallas. I got to kind of come home and be the hometown kid on the show.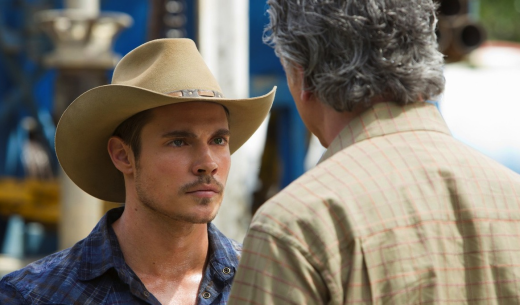 Had you watched the original at all, even in reruns?
Josh: I had seen it and I knew about it. Dallas was a big deal in my family. It was a very big part of our lives and I was really young when it was on but I totally knew of what it was. When I heard it was coming back, I thought, "I know this show. I really feel right for it." I mean, come on, for a young actor there couldn't be a much cooler a role than playing J.R.'s son. So for me, this is very surreal.

The first day you were on the set of Dallas, what was it like?
Josh: I was so, so excited. I was like, OK, this is real now. Now it's just about showing up and playing ball with people like Larry (Hagman) and making sure that I can step my game up and hopefully bring something that's worthy of J.R. and the Ewing name. I was a little intimidated at first, hoping that people would be responsive, being the new cast and the new generation. People love Larry, Linda, and Patrick (Duffy), and they're what made Dallas so special. I felt a little weight on my shoulders coming in and playing J.R.'s son. I knew there was going to be a lot of anticipation as to who John Ross is now.

Did you get any advice from the original cast?
Josh: The advice that Larry gave me was have fun every day at work and enjoy the ride.  He talks about how his entire life has been such a ride because of Dallas. I just tried to have fun every day and we did. I think that once you have fun you can relax and really dig deep into the scenes. I think it translates onto the screen and to the audience and it makes it more believable and an enjoyable show.

What was the feeling the last day of filming?
Josh: Man, my last day of filming, my last shot…oh man, I don't think I can tell you about that. It was a big moment. It was an epic moment for me to be a part of Dallas. Obviously we were wrapping up the first season. It was a special night in my life. It's this closure of season one and this exciting kind of platform for people to fall in love with that hopefully will translate into years of great TV. It was kind of like it was not a sad moment it was an exciting, great night for me. By the way, the last three episodes are crazy.

What was your reaction to the premiere ratings?
Josh: I was at my house. I actually landed in LA hours before the premiere that night. I woke up to a ton of e-mails from people from Turner and Warner Bros. and the cast just saying Wow, this is great. Congratulations! It was so exciting. It was a good day but I was in my bed reading my e-mail. I ended up being up until about four or five that night celebrating with friends. 

In real life, who are you most like, good guy Christopher or a bad boy like John Ross?
Josh: I'm more Christopher.  I'm a very kind of personable person and I love people. I'm actually nothing like John Ross in that kind of conniving attitude but it makes it fun for me because I actually get to go to work and act. If I were going to work and playing myself every day it would be very boring. I like to see myself as someone who's a lot nicer and less trouble than John Ross. I don't see John Ross as a bad guy. I just think he's kind of a guy who's very determined and passionate and he knows what he wants and he's hopefully not going to let anyone stop him from achieving that.  He knows how to do business one way and that's the J.R. way. You kind of can't blame him.

C. Orlando is a TV Fanatic Staff Writer. Follow her on Twitter.

Tags: Exclusives, Interviews, Dallas