The Dexter Season 7 premiere will pick up immediately where the Season 6 finale left off because, come on, how could it not?
With viewers last seeing Deb staring down a knife-wielding Dexter, all are now left wondering: How will she react? And, according to Executive Producer Sara Colleton, that's exactly what we should be wondering.
"Does she turn him into the police? Is she repulsed by him? Can she continue to love him? Does she feel an odd relief that finally she understands some fundamental part of him that always felt elusive?" Colleton asks in an extended interview with TV Guide.
Follow the preceding link to read through the entire Q&A and check out excerpts from it below: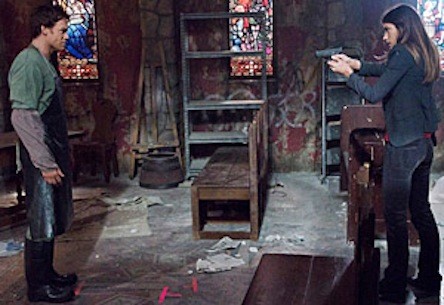 On the Season 7 theme: It is about things he's never experienced before, which are regret, responsibility, shame, betrayal, all of those things. Also, it's the flip side of wanting to be known, and then once you are known, there's a loss of freedom.

On Debra's newfound love for her step-brother: It will be explored. It has to explored, because one doesn't come to a realization like that and then completely change. But obviously what she learns is going to affect it, so all of the things that have been the bedrock of Deb's life get moved around.

On Harry's role/reaction: It's very upsetting to Harry. For Deb, she's always suffered from feeling like Daddy's second best. She realizes now, too, that this was never her being second best. She will learn all about Harry training Dexter and that is another thing that is going to rock her world. Again

What role will Yvonne Strahovski play? A woman named Hannah, who took off from this small rinky-dink Florida town and ran off with this older guy and they went on this wild killing spree. So when they got caught, she turned state's evidence on the boyfriend, he went to jail for life and she started a new life. Years later, she's in her 30s and she will intersect with Dexter. I would say Hannah is a still water that runs very deep and is quite unlike any woman Dexter has ever known.

Might she be a love interest for Dexter? It's possible.

Dexter returns with Season 7 on September.

Matt Richenthal is the Editor in Chief of TV Fanatic. Follow him on Twitter and on Google+.

Tags: Dexter, Interviews, Spoilers