Falling Skies Interview: Colin Cunningham on Twists, Turns, The Disappearance of Pope
by Matt Richenthal at . Comments
He was the breakout character on Falling Skies Season 1, and he made quite the impact on last Sunday's two-hour return episode, but viewers will soon need to adjust to life without John Pope.
"He won't be hanging around," Colin Cunningham told me. "Pope will be taking off on his own after episode three and he'll be gone for a few weeks after that."
The actor could not elaborate on the reason for his renegade character's disappearance, but it's safe to assume it's related to Pope questioning Tom Mason and the motives behind his return.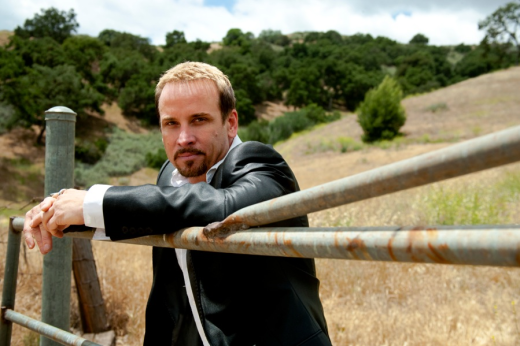 "Why would you trust him?" Cunningham asked of Tom's arrival after three months on a spaceship. "He could be a walking GPS, anyone would be curious about what's going on."

That's true. But only Pope was willing to step up last week and express such a concern.

"Pope has always been the voice of reason," the actor said. "Whether you like him or whether you don't, he always speaks the truth."

And almost all Falling Skies fans fell in love with him as a result last season. Cunningham has no idea how Pope's popularity took off ("It was all a bit of luck," he says. "I don't know how I ended up with as much dialogue as I did… but I'm not gonna complain!"), but he does say he had a conversation toward the end of last year with the writers because they feared there had been too much of a "shift" in the outlaw.

"There was a risk of Pope becoming too human, almost showing too much light in his heart. He's an edgy guy and a bit of a bad ass, so they said 'That's been working. Let's keep going with it.'"

But Cunningham is quick to dismiss any notion that Falling Skies is the "Pope show." He said he's thrilled to see other characters - such as Seychelle Gabriel's Lourdes - take "center stage" and he's especially thrilled over the budget TNT approved for Season 2.

"It showed the guts TNT has and how much it believes in this show. The sets are just gigantic. We're never in a studio. We're never in the same place twice… it's absolutely massive. I've never worked on anything like this before."

As for what viewers can expect going forward?

"The whole alien storyline is gonna open up to things you did not expect," the star teases. "There are a lot of twists and turns people are really gonna dig. Absolutely nothing is just one-note."

Falling Skies airs a new episode on Sunday. Watch a preview for "Compass" now and then visit TV Fanatic the moment it concludes for my full review.

Matt Richenthal is the Editor in Chief of TV Fanatic. Follow him on Twitter and on Google+.

Tags: Exclusives, Falling Skies, Interviews, Colin Cunningham