The first season of Falling Skies was solid if not spectacular.
It featured the worn out premise of aliens attacking Earth, but it grounded that concept in a handful of interesting characters, led by TV Fanatic favorite Noah Wyle as the reluctant Second Mass second-in-command, Tom Mason, a history teacher thrust into a leadership/combat role and focused on one primary objective: the safety of his three sons.
Too often, such as on the season one finale, characters simply talked about action instead of taking any, but the concluding episode wrapped up with one of the more intriguing cliffhangers on any series I cover: Tom strolling into an alien spaceship.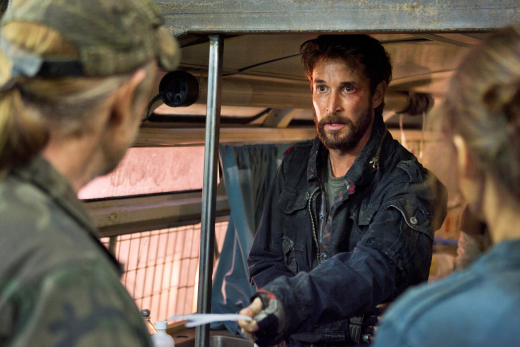 And season two sort of picks up right from there. Yes, three months have gone by since Tom made his fateful decision, but he gets re-introduced to his friends and family members within minutes of the two-hour premiere.*
(*Can we do away with two-hour episodes please? I don't care if it's Walt from Breaking Bad plotting, while Damon from The Vampire Diaries snarks and Marnie from Girls just stands around in a tanktop; two hours is an awfully long time to see through one TV show.)
Tom's time on that spaceship and the way he's brought back here accomplish numerous goals, almost all of which are positives for the direction of Falling Skies Season 2:
It allows for flashbacks to Tom's experiences with the master alien, always a fun way to learn about a character and an avenue in this case that opens up a number of questions:
What happened to Ben? Is Tom correct to so instantly dismiss the creature's offer?
It focuses the story away from your basic alien invasion - the kind we've seen so many times, when invaders simply want to destroy our planet - and and changes the question from HOW will we stop them to... WHY are they here?
I'm operating under the assumption that we'll learn more about the aliens' motives as the season progresses and this is where Falling Skies can differentiate itself from any number of other, similar types of shows or movies. I have no theories at the moment, but I'm certainly curious to see where this goes.
It creates an instantly new, fascinating dilemma for the survivors. How much should they trust Tom? How much should he trust himself? These questions became the crux of the two hours and not only aren't they answered yet, but they produced one of the most nauseating scenes in my history as a television viewer. HOLY EYEBALL EXTRACTION!!!
Both the opening hour, "Worlds Apart," and the second half, "Shall We Gather at the River," tried to establish supporting players a bit. Lourdes is taking on a more prominent medical role; some guy named Jamil is apparently a great engineer; Matty wants to fight; Ben is rebellious; Hal has taken on more responsibility.

We also have an all-out Ann/Tom romance now, but I can't say I care much about anyone aside from Tom. Except for Pope. He was the breakout character of season one, and the show has found a way to keep him on the periphery of the core group on season two.

Pope is the only survivor thinking clearly, or unemotionally, about Tom's return, which gives him the hard edge that made him such an interesting individual from the outset. He brings comic relief to what can often be a very serious show and, in this storyline, he also creates a dividing line that will be ripe for impending tension.

A strong start overall to Falling Skies Season 2. Between Wyle's performances, the new issues raised regarding Tom's visit to the other side, Pope as an outlier and that grotesque eye creature thing about to cause some major problems, there's definitely enough here to make me excited about Sunday nights all summer long.

Matt Richenthal is the Editor in Chief of TV Fanatic. Follow him on Twitter and on Google+.

Tags: Falling Skies, Reviews