For my money Dexter is never more compelling than when he is in trouble. And he's never been in deeper trouble than he is now.
So teased Michael C. Hall yesterday during his show's panel discussion with reporters at the Television Critics Association press tour, alluding to the stunning way Dexter Season 6 concluded:
With Deb walking in on her brother, mid-ritual.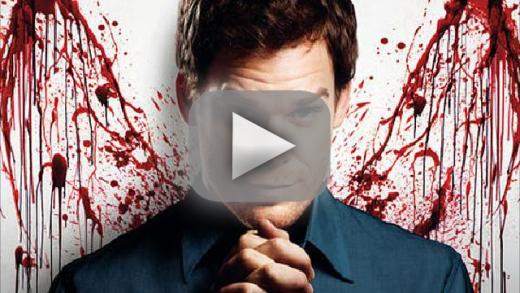 We know from the opening two minutes of Season 7 - which premieres on September 30 with "Are You..." - that the Showtime thriller picks right back up at that exact moment, and Jennifer Carpenter described to attendees what the tense few moments were like to film.

"It was the strangest, scariest seduction scene, in a weird way," said the actress, noting Dexter's attempts to manipulate his sister. "It was also the first time I felt [Deb's] power as a lieutenant. I felt as weak and as powerful as I've ever been — as an actor and as a character."

With Deb now on to his secret, or at least part of it, Hall said new episodes have been "invigorating" to shoot, as the show feels fresh again and "to have that happen in the seventh season of a TV show is pretty remarkable."

Showtime President David Nevins reiterated at the event that the plan is still to end Dexter after Season 8, but he acknowledged "plans can always change."

Still, it sounds like Hall can see the finish line. The totally altered finish line, that is.

"I think [Deb] finding out does make an endgame feel a bit more palpable and imminent," he said. "I think it is without a doubt the most fundamentally game-changing development that we've had since we started telling this story. One of the things that we've always been able to count on is that Dexter's secret is his own — and it's not anymore."

Matt Richenthal is the Editor in Chief of TV Fanatic. Follow him on Twitter and on Google+.

Tags: Dexter, Interviews, Spoilers