It's been a common theme throughout Falling Skies Season 2 that the TNT drama has upped the action ante considerably from last summer.
But - holy alien attack, blowtorch construction and gun play! - this was never more the case than on "Molon Labe," an episode that brought the Second Mass into contact with its would-be conquerors more than ever before.
My pulse is still racing.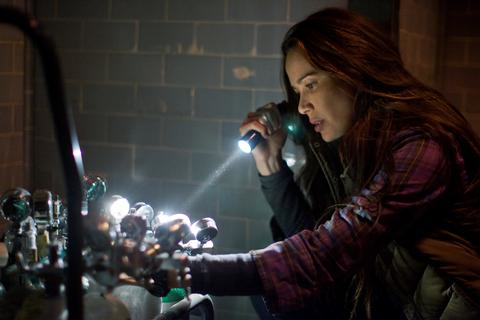 The installment featured two more deaths as well, though I can't say I'm especially broken up over Jamil. We met him just a few weeks ago, the series tried to shove his relationship with Lourdes down our throat and as soon as those two shared that romantic moment early on here, it was safe to assume one half of the relationship would not survive the hour.

Still, I give full kudos to Falling Skies for constantly making it clear this season that lives truly are at stake.

First Jimmy... then Tick... then Jamil... then the dude whose name I forgot that was gunned down by Karen's evil friend. I don't expect Hal or Tom to kick it next Sunday, no, but it raises the stakes for our main characters to see that so many close to them can be killed at any time.

Unless you know how to built a blowtorch because you grew up in a neighborhood with some tough, creative kids.

Elsewhere, while it seemed odd to once again conclude an episode with Ben leaving his survivors behind, the tone of his farewell to Tom felt very different in this case than his sneaking away on "Homecoming." It also opened up a number of avenues.

Will we meet other formerly harnessed kids? What else does Ben know about the overlord's thoughts? When and how will he meet back up with his family in Charleston?

Moreover, what do these aliens actually want? One has to assume they could have obliterated the Second Mass on the spot during tonight's stand-off, yet Karen was sent in with a white flag... strictly because they were afraid of losing their leader? Why are they so reliant on one creature? Doesn't seem like especially intelligent planning from a supposedly superior species.

The episode managed to raise these questions while airing at a frantic pace. We spent a majority of the installment whipping around from one explosive scene to another, as individuals raced for their lives, opened fire and, well, were stuck alien babies crawling out of their mouths.

Seriously, between that scene and Tom's eye surgery and the harness factory from a few weeks ago, I hope the special effects department has received a major raise. The gross-out factor has been off the charts, in the best possible way, this summer.

So... it's off the Charleston for the Second Mass and who-knows-where for Ben. Creepy Karen is still out there, as is her revived master, I have to presume. I can safely say I have no idea where they are all headed, but I'll be prepared with ample blood pressure medicine next week to find out.

Matt Richenthal is the Editor in Chief of TV Fanatic. Follow him on Twitter and on Google+.

Tags: Falling Skies, Reviews