Allow me to start with a quick apology and clarification: Leverage Inc. is now based out of Portland, Oregon where the show is being filmed. In last week's Leverage review I initially said the wrong city. Thank you to all the TV Fanatics who commented and corrected me. I'm glad you're here.
Now... on to our second offering from Leverage's new home. This week, the team took on a job involving one of the favorite sports of Boston and Portland: hockey.
First thing I noticed about "The Blue Line Job" was that they didn't skimp on the guest star. Treat Williams as Otters owner Peter Rising certainly maintained the standard the series set last week on the caliber of talent we can expect to see on Season 5.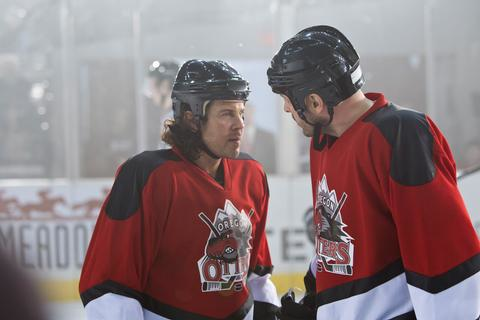 Sadly, I know so little about hockey I wasn't sure if Vladimir Busiak (played by Thure Riefenstein) was a real hockey player or fictional until I looked up the episode afterwards. That said, I really did enjoy Riefenstein as a former partner of Sophie's and his approval of Nate in their last conversation. 

Did anyone else get a little lost between Risings statement that he was going to declare bankruptcy and the confrontation on the ice? I followed that he had skimmed money from the team; I couldn't understand how sending it to the bank helped him. Wouldn't that just put it back into the team's funds? Or did I miss where he got all the ticket sales?  

The job aside, it was great to see Nate and the team humming along so smoothly. In fact, Parker really stepped up her game this episode, taking the lead on how to get the money out of the lockbox and when. I could get use to "responsible Parker," as it adds a great flare to her character. 

We also got to see a softer side of Elliot again as he talked to Marko about his brothers (military brothers) and having done bad things because they depended on him.  I would love to see another Eliot episode where we get to learn more about his background; maybe Adam Baldwin can turn back up needing a job done and spend more than two minutes in the episode.  

Overall, it was a decent offering with some spectacular views of Portland. I'm sure I would have enjoyed the episode more if I had been a hockey fan. And don't forget that we have a two-week wait for the next installment, but in the meantime be sure and stop by our Leverage quotes to see if your favorite made the list.

Jim G. is a TV Fanatic Staff Writer. Follow him on Twitter.

Tags: Leverage, Reviews