Lost Girl Season 3 Scoop: Going Dark (Fae)
by Jim Garner at .
Linda Hamilton will guest star on Lost Girl Season 3. This much we know.
But what else can fans expect from upcoming episodes of this Syfy drama? I spoke to producer Jay Firestone and stars Kris Holden-Ried (Dyson) and Ksenia Solo (Kenzi) at Comic-Con and asked that exact question. Along with a few more...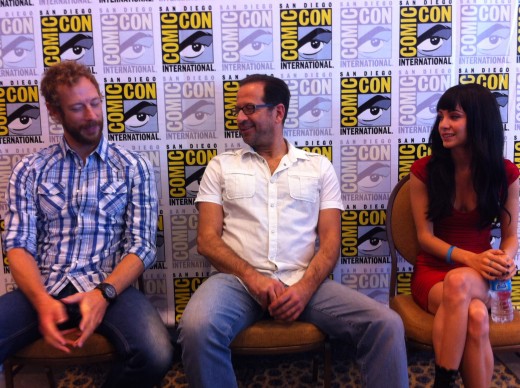 What can we expect in season 3?
While we have seen a lot of the Light Fae world so far, we are going to see more of the Dark Fae world in Season 3, according to Firestone. We also will learn a bit more about Trick and Dyson, with Trick having chosen Dyson at some point.

Why did show not come to U.S. until now?
Firestone explained that he initially wanted the show to be shown in U.S., but the networks that offered to pick it up wanted to be able to edit it their way and he refused, wanting to keep the story intact.

Is there a difference in the series being shown in the U.S.?
Firestone said that airing on Syfy in the U.S. is 90 seconds shorter than the original version. Ironically, he doesn't cut the items you think he would (sexuality, violence, etc). As mentioned above, he works to tell the same story, just 90 seconds shorter. It's very tough to do sometimes.  He did stress that Syfy is amazingly generous in allowing him to do all the edits AND we will get the 90 seconds back on the DVDs!

On the sexual orientation and relationships of the show.
Jay was clear that the relationships in the show were not about a woman being with a man or with another woman; it's about a person being with another person, making a connection of the a heart. Kris went on to say that he really likes that the show doesn't do sexual classifications and focuses on the relationships of the people.

Will we see more of Kenzi's back story?
Jay confirmed that we will learn more of Kenzie's back story and that she is much more complex that we initially believe she is. Also they have had a lot of fun with all of this. Look for a Wizard of Oz reference in Season 3 involving Kenzie.

On their favorite episodes.
Solo said that Episode 6 in Season 3 is her favorite. It involves Dyson and growling, but she would not say more. Holden-Ried liked two episodes from Season 2, first "BrotherFae of the Wolves" for getting a flashback to Dyson's history and "Original Skin," as the body swapping was a lot of fun to act.

Jim G. is a TV Fanatic Staff Writer. Follow him on Twitter.

Tags: Comic-Con, Lost Girl
From Around the Web