With Harvey about to come under fire for burying evidence under the tutelage of the former DA, and with flashbacks on tap that introduce new characters, showrunner Aaron Korsh took part in a conference call this week, dishing on the origins of his hit show and giving us an idea of what to expect going forward on Suits Season 2.
He also revealed the meaning behind the can-opener! Read on for the answer...
-------------------------------------------
Let's start with the concept of the "civil war." It's a theme that's quickly emerged this season and was derived, Korsh explains, from "a lot of shows that [he's] a big fan of," as they often "bring in an outside character as a foil."
Hence the decision to reveal the ever-elusive Hardman.
"It just seemed like a perfect fit to bring [Hardman] in and let him be the foil that kind of solved the problem of how to keep Mike in the firm and still have Jessica find out about his secrets."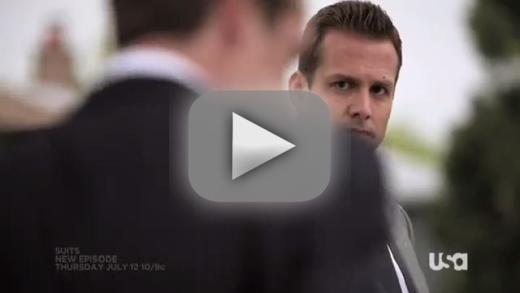 Viewers can look forward, meanwhile, to other new characters coming on board this summer, including one named Monica (played by Garbiel Macht's wife, Jacinda Barrett).

She "left the firm under kind of cloudy circumstances and... plays both a role in the past and in the present," Korsh teased, adding that "she interacts mainly with Louis in the episode in the past and Mike in the episode in the present. But she's got a history with everyone at the firm... and her departure affects Rachel, Louis, Daniel, Harvey, Jessica, everyone."

The upcoming flashback episode will also include Mike's first encounter with Jenny and shed more light on Sarah Rafferty's Donna, while depicting life at the company before the drama that pushed Hardman out.

Of course, I had to ask what that Season 1 concluding can-opener was all about.

Korsh said the "ritual" that Donna and Harvey have to do before every case seemed too "overtly sexual" for the network's tastes. As a result, when asked to take it out, he I'll get the can opener just as a "throw away line," which, unwittingly giving birth to a reference that... well... actually doesn't mean anything all!

But it did still lead to a Facebook page for said can-opener.

Suits airs on USA Network Thursdays at 10/9c.

C. Charles is a TV Fanatic Staff Writer. Follow her on Twitter.

Tags: Interviews, Suits