True Blood Comic-Con Panel: Hot, Wacky Season 5 Sex to Come!
by Matt Richenthal at .
Sex. Sex. And more sex.
Among the many topics covered today at the True Blood Comic-Con panel, creator Alan Ball and various cast members teased the upcoming skin-on-skin shenanigans that will fill the back half of Season 5.
But first, a new trailer! Watch below to see Bill tells Sookie to forget about him and Eric forever, and to witness the true return of Russell Edgington: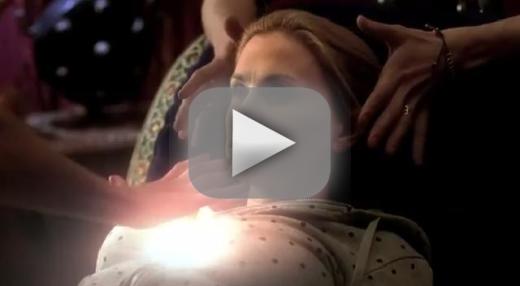 As for that sex... Joe Manganiello said Alcide "sexually eviscerates another cast member" in the near future, while Ball went into detail about what's to come between the sheets: "There are definitely some very hot sex scenes, and there are some wacky, 'What The F–k?' sex scenes. And between those two, I think all will be satisfied."

True Blood is already renewed for Season 6, so how will the summer of 2013 be teased on this season's finale? Previewed Anna Paquin : "The last scene of our last episode is going to blow people's minds. It's a very, very crazy scene."

Alexander Skarsgard and Stephen Moyer have been loving the bromance between their characters so far. Said the latter: "We've had a little too much fun together and its been four years of us fighting over Sookie. There's like a Butch Cassidy and Sundance Kid."

Yes, we'll delve into the Stackhouse parents, following the information Jason recently learned about their deaths: "We're going to learn more about Michelle and Corbett Stackhouse, and the remaining effect of what happened to them had on Sookie and particularly Jason," promised Ball."

Ball also promises three new romances ahead.

Moyer concluded the panel by paying tribute to Ball, who received a standing ovation:

"Everytime you think you just did the most amazing scene, you get something more incredible from Alan Ball. It would be a very fitting end to this panel to thank Alan Ball for making this happen."

Matt Richenthal is the Editor in Chief of TV Fanatic. Follow him on Twitter and on Google+.

Tags: True Blood, Spoilers, Comic-Con
From Around the Web