The Amazing Race 21 Cast Includes The Fabulous Beekman Boys, Chippendales Dancers, Megadeath Bassist
by Matt Richenthal at .
The Amazing Race premieres its 21st season on September 30, primed to give an increased $2 million grand prize to either a pair of Chippendales dancers; the stars of reality show The Fabulous Beekman Boys; or a two-time amputee.
Those are just a few of the recently-announced contestants that will compete every Sunday night on CBS this fall.
Check out the new cast photo below and then scroll down for a list of the 11 teams...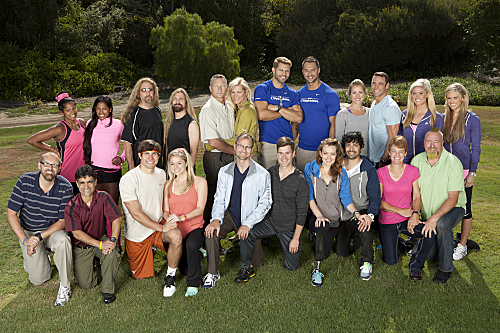 1. Name: Natalie Anderson
Age: 26
Hometown: Edgewater, N.J.
Current occupation: Physical Therapy Student
Name: Nadiya Anderson
Age: 26
Hometown: Edgewater, N.J.
Current occupation: Project Coordinator at Bridge2Peace
Connection: Twin Sisters

2. Name: Josh Kilmer-Purcell
Age: 43
Hometown: Sharon Springs, N.Y.
Current occupation: Goat Farmer/Advertising Executive/Author
Name: Brent Ridge
Age: 38
Hometown: Sharon Springs, N.Y.
Current occupation: Chief Executive Officer of Beekman 1802
Connection: Goat Farmers/Life Partners

3. Name: Rob French
Age: 46
Hometown: Boston, Ga.
Current occupation: Professional Monster Truck Driver
Name: Kelley Carrington-French
Age: 50
Hometown: Boston, Ga.
Current occupation: Professional Monster Truck Driver
Connection: Married Monster Truckers

4. Name: Trey Wier
Age: 23
Hometown: Austin, Texas
Current occupation: Land Consultant/Former College Athlete
Name: Alexis "Lexi" Beerman
Age: 22
Hometown: Dripping Springs, Texas
Current occupation: Clothing Designer
Connection: Dating

5. Name: James LoMenzo
Age: 53
Hometown: Burbank, Calif.
Current occupation: Professional Musician/
Former Band Member of White Lion and Megadeth
Name: Mark "Abba" Abbattista
Age: 45
Hometown: Denver, Colo.
Current occupation: Entertainment Lawyer
Connection: Friends

6. Name: Abbie Ginsberg
Age: 31
Hometown: Encinitas, Calif.
Current occupation: Dance Instructor/Choreographer
Name: Ryan Danz
Age: 35
Hometown: San Diego, Calif.
Current occupation: Financial Service Company Owner
Connection: Dating Divorcees

7. Name: Jaymes Vaughan
Age: 30
Hometown: Las Vegas, Nev.
Current occupation: Chippendales MC
Name: James Davis
Age: 27
Hometown: Las Vegas, Nev.
Current occupation: Chippendales Dancer
Connection: Chippendales Dancers/Best Friends

8. Name: Rob Scheer
Age: 52
Hometown: Ketchikan, Alaska
Current occupation: Lumberjack and Entrepreneur
Name: Sheila Castle
Age: 44
Hometown: Pigeon Forge, Tenn.
Current occupation: Retail Manager
Connection: Engaged

9. Name: Caitlin King
Age: 24
Hometown: St. Louis, Mo.
Current occupation: Special Ed Teacher
Name: Brittany Fletcher
Age: 25
Hometown: Chicago, Ill.
Current occupation: Medical Device Sales
Connection: Best Friends

10. Name: Gary Wojnar
Age: 52
Hometown: Livonia, Mich.
Current occupation: Substitute Teacher
Name: Will Chiola
Age: 53
Hometown: Dearborn Heights, Mich.
Current occupation: Substitute Teacher
Connection: Best Friends/Substitute Teachers

11. Name: Amy Purdy  
Age: 32
Hometown: Las Vegas, Nev.
Current occupation: Motivational Speaker/Snowboarder (Amy is a double amputee)
Name: Daniel Gale
Age: 36
Hometown: Crested Butte, Colo.
Current occupation: Executive Director
Connection: Dating On and Off

Matt Richenthal is the Editor in Chief of TV Fanatic. Follow him on Twitter and on Google+.

Tags: Reality TV, The Amazing Race
From Around the Web